White Supremacists rallying in Charlottesville to oppose a plan to remove a statue of Robert E. Lee.
Groups with well-established histories of violence preparing for the event in advance.
What could possibly go wrong?
Antifa – famous for their riots, attacks and anarchy – made it clear they would be at the rally in force.
Help Charlottesville, VA defend their community on Aug 12 from possibly the biggest neo-Nazi rally the US has seen in decades. #DefendCville pic.twitter.com/3ATq8JWfl1

— New York City Antifa (@NYCAntifa) July 31, 2017
As did Black Lives Matter.
In 3 days violent neo-nazis are coming to town. Support BLM in our fight against these terrorists!!! https://t.co/9fW6pLVXEC

— Charlottesville BLM (@CvilleBLM) August 9, 2017
Other groups were preparing as well.
Here's a leaflet sent out in advance by Progressive Change Campaign Committee – a George Soros-funded group.
They hype it because they're in on it. Read the Soros memo sent out earlier this week pic.twitter.com/3prUrIGN3S

— DagnyReaganTaggert (@McCarthyKnew) August 13, 2017
One would be hard-pressed to create a more volatile situation.
Virginia Governor Terry McAuliffe knew what could happen.
Here is his statement from August 11, 2017.
This morning, I was briefed for the second time this week by public safety officials in my cabinet, the Virginia State Police, the National Guard, and the Department of Emergency Management on their preparations for tomorrow's rally in Charlottesville. I have directed them to coordinate with federal and local authorities and take every precaution necessary to ensure the safety of their personnel, the Charlottesville community and rally attendees. Virginia State Police is leading the Commonwealth's planning and response for these events and will be on the scene in a support capacity before, during and after the planned rally. At my direction, personnel from the Virginia National Guard are also standing by to respond if needed.
The Mayor of Charlottesville, Mike Signer, knew what could happen.
He retweeted the following on August 11, 2017. Note the Sheriff's projections for large crowds.
NEW: @CvilleCityHall brief in opposition to @Rutherford_Inst/@ACLUVA injunction includes PD Chief Thomas affidavit detailing expected crowd pic.twitter.com/YckanmqQvy

— Matt Talhelm (@MattTalhelm) August 11, 2017
So how is it possible that we have a scene like this? One utterly devoid of police?
Many noticed the obvious lack of police presence.
Where were the police and the barricades, Mayor @MikeSigner? How can you blame Trump for failing to command YOUR police force? https://t.co/RzgIppnaOB

— Rep. Steven Smith (@RepStevenSmith) August 13, 2017
The ACLU of Virginia – who helped the protest to proceed via lawsuit – stated that police were specifically commanded to stand down.
Clash between protesters and counter protesters. Police says "We'll not intervene until given command to do so." #Charlottesville pic.twitter.com/UkRDlNn2mv

— ACLU of Virginia (@ACLUVA) August 12, 2017
Perhaps the only one surprised at the result was a New York Times reporter
3. Among my unanswered questions: police response. Why did things get out of hand so quickly? Could violence have been prevented? 3/3

— Sheryl Gay Stolberg (@SherylNYT) August 13, 2017
The answer to Ms. Stolberg's question is obvious. Of course the violence could have been prevented.
Keep the differing sides separated and arrest any who disobey police orders. Then again, that solution requires an actual – and active – police presence.
Why were police not acting in preemptive fashion given the obvious risks?
That's a good question for Virginia Governor Terry McAuliffe and Charlottesville Mayor Mike Signer. Perhaps Attorney General Jeff Sessions can ask it of them as he begins his formal investigation.
This entire event seemed highly…orchestrated.
Given the outcome, one could argue the participants were more prepared than were the official response forces.
I'm not blaming the police. But I'm wondering about officials who seemingly held police response in check.
Today, Mayor Signer went on Face the Nation. You can see the interview here. He seemed a bit… uncomfortable when asked about "anemic police response" and later placed blame on President Trump.
We have a lot of grieving and a lot of work to do as a city and as a country, but he [President Trump] should look in the mirror. He made a choice in his presidential campaign and the folks around with him to go right to the gutter, to play on our worst prejudices, and I think you're seeing a direct line from what happened here this weekend to those choices.
Governor McAuliffe sent a tweet that appeared to be a backhanded swipe at the President:
At every level, elected officials in America must denounce white supremacy, Nazism & any rhetoric that empowers those who seek to divide us.

— Terry McAuliffe (@GovernorVA) August 13, 2017
Neither man, in any fashion, has accepted responsibility for the lack of police intervention at the onset. Intervention that might have headed off the entire situation and prevented three tragic deaths and scores of injured.
This entire episode is repellent. There are no heroes to be found. Just degrees of awfulness.
To realize this may have been allowed to unnecessarily escalate is even more repugnant.
President Trump was right to call out all sides of this mess. Not one or the other. All sides.
What is vital now is a swift restoration of law and order and the protection of innocent lives.#Charlottesville pic.twitter.com/DB22fgnu6L

— Donald J. Trump (@realDonaldTrump) August 12, 2017
For those unfamiliar with Antifa, here is their reaction to the shooting of Rep. Steve Scalise in a now-deleted tweet.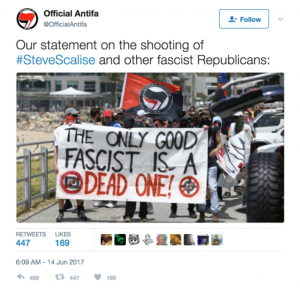 For those unfamiliar with either the Virginia Governor or Charlottesville's Mayor, a few final notes:
Virginia Governor Terry McAuliffe is a longtime Clinton confidant. McAuliffe donated $467,500 to the 2015 Senate campaign of Dr. Jill McCabe. This equated to more than a third of Dr. McCabe's campaign funds. Dr. Jill McCabe is married to Andrew McCabe. Andrew McCabe happened to be the Deputy Director of the FBI.
McAuliffe met with the McCabe's on March 7, 2015 – the purpose of the meeting was to convince Dr. McCabe to run for office – her first run at any public office.
Mrs. Clinton's private server was uncovered by the New York Times on March 2, 2015 – five days before Mr. McAuliffe's first meeting with the McCabe's.
At the time of McAuliffe's first meeting with the McCabe's, Andrew McCabe was running the FBI's Washington, D.C. field office. It was Mr. McCabe's office that provided personnel and resources to the Clinton email investigation.
You can read more about the whole thing here.
Charlottesville Mayor Mike Signer received a Ph.D. in political science from UC Berkeley. Given the level of Antifa riots and protests at his old college, it would seem a safe bet he is familiar with their tactics.
Mayor Signer has worked for the Center for American Progress – founded by John Podesta and funded by George Soros. Signer also worked with John Podesta on Barack Obama's State Department Transition Team.
On November 17, 2016, Signer wrote an article for Time, encouraging members of the Electoral College to overturn the Presidential Election results.
Once again.
Why were police not ordered to act in preemptive fashion given the obvious risks?
It's almost like someone wanted to create an incident…
newer post  Reframed – Trump's Press Conference, Antifa & the Left
older post  Globally Leveraging our Energy Production