A Survey Monkey Poll of 65,000 senior citizens was published on September 8, 2017. The survey was done for the Association of Mature American Citizens (AMAC).
AMAC is a conservative alternative to AARP – and has over 1 million active members:
AMAC is focused squarely on protecting the interests of America's seniors. We offer an alternative perspective on how to best solve the problems faced by seniors today, and we're on your side when it comes to fighting runaway taxes, excessive government involvement in our day-to-day lives, and the erosion of accountability at all levels of government.
We offer a variety of consumer benefits for our members including travel discounts, competitively priced insurance products, Roadside Assistance, retail and restaurant discounts, and a host of other benefits and savings opportunities in between.
AMAC is a conservative, non-partisan organization with the goal of representing those whose core beliefs are not represented by other major 50+ [retirement] organizations.
You can find AMAC's stance on key issues here.
As I have noted, AMAC is a conservative organization. But that doesn't make the poll results any less enlightening.
All too often – almost invariably – MSM polls over-sample Democrats versus Republicans – especially when the poll favors a Conservative issue. As an example, in a poll I discuss in this article, Democrats are over-sampled by 8 points.
Which is exactly why I found this AMAC poll to be of particular note.
It provides an unadulterated view of conservative senior voters and their take on the Trump Presidency.
From the Survey Monkey Poll: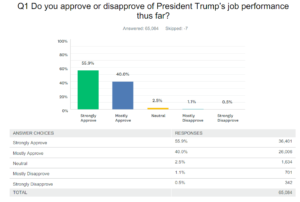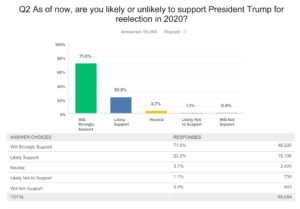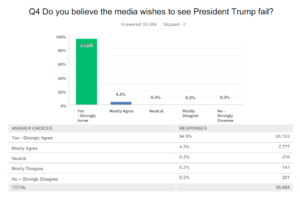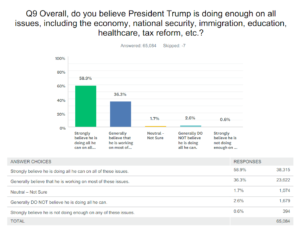 It might be easy to dismiss this AMAC poll as predictable results from a conservative cross-section of Trump supporters.
I hope Democrats do exactly that.
I see the results as validation of what many of us have been claiming. The majority of conservative Americans are generally happy with President Trump and what he is trying to accomplish.
Importantly, those same voters would vote for him again.
The poll questions are simple, direct and straightforward. There's no skewing of responses from distorted, biased or carefully crafted questioning. The allowable responses are equally straightforward – Strongly Agree, Agree, Neutral, Disagree, Strongly Disagree.
Now, glance at those numbers again. And recall – the poll included 65,000 conservative seniors:
95.9% of Conservative Seniors polled Strongly Approve (55.9%) or Mostly Approve (40%) the job President Trump is doing thus far.
94.2% of Conservative Seniors polled Will Strongly Support (71%) or Will Likely Support (23.2%) President Trump for reelection in 2020.
99.2% of Conservative Seniors polled Strongly Believe (94.9%) or Mostly Believe (4.3%) the Media wishes to see President Trump fail.
92.5% of Conservative Seniors polled Strongly Believe Most (30.7) or Believe Some (61.8%) Congressional Republicans want President Trump to fail.
 95.2% of Conservative Seniors polled Strongly Believe (58.9%) or Generally Believe (36.3%) President Trump is doing enough on all the major issues.
These are real numbers from conservatives who are highly likely to vote.
President Trump's poll results have not been adequately represented by the media. In fact, quite the opposite has occurred. The MSM has tried desperately to portray the Trump Administration as a failure with the American public.
That's simply not true – and now we have a poll to prove it.
In an article the other day, I touched on a few of the things President Trump has accomplished to date.
For a detailed and impressive list of the Trump Administration's full accomplishments see here. There are a dizzying array of items – the vast majority of which are unreported by the MSM.
Apparently, our nation's seniors are paying closer attention…
newer post  The Imran Awan Case – House Dems, A Secret Server & So Much More
older post  A Deal with Dems & A Welcome Blow to RINO's