It's the economy, stupid – James Carville
The Index of Consumer Sentiment – more commonly known as the Consumer Confidence Index – came in at 101.5, reaching its highest level since the start of 2004 – an almost 14 year high.

It's not just generalized sentiment. Consumers expect the stock market to continue to move upwards – after already experiencing $5.2 Trillion in market value added since President Trump was elected.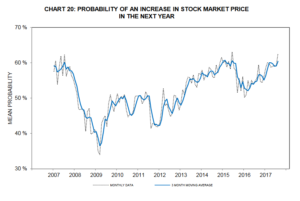 The same goes for Business Conditions.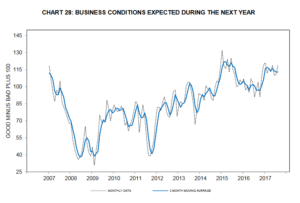 $5.2 Trillion in market value creation – an utterly unprecedented increase.
We have witnessed the greatest creation of value the world has ever experienced.
It was always there – it was just waiting to be released. All it needed was for government to get out of the way.
A Contrarian Case could be made that these results represent flashing red warning signals. I should know, I'm often a Contrarian Investor.
I'm also a Long-Term Investor.
On the night Trump won the election, market futures nosedived. Earlier that day I sent out a text stating the following simple message:
"Sell the rally if Hillary wins. Buy the Low if Trump wins."
I sent that same text out again when we knew Trump had won.
This basic advice was predicated on nothing more than Trump's promises for deregulation and lower taxes. I thought we would be in store for great things if Trump won.
On February 19, 2017, I wrote a post titled, Financial Market Truths and Liberal Outrage. In it I made this statement:
I think we are in the midst of one of the great Bull Market runs – as long as President Trump can get his policies enacted. If the market falters it won't be because of Trump – it will be because of Democrat tactics.
My money, quite literally, is on Trump.
I made one mistake. I should have said "Congressional tactics". The GOP is even more infested with RINO's than I had realized.
At current market levels, I wouldn't be surprised if we see a pullback. But don't let it fool you – because that's all it will be – a pullback.
Why do I say this?
Because our Business Environment has fundamentally changed for the better.
President Trump has killed nearly 1,000 regulations since taking office. The markets noticed.
The hidden costs of regulations exceed even those of taxes – see: Trump's Deregulation Gift.
These economic anchors – the direct cost of taxes and hidden costs of regulation – help to explain how the Obama Administration doubled our national debt burden to $20 trillion while never achieving GDP growth in excess of 3%.
Of the ten all-time-highest Federal Register (the daily depository of rules and regulations) total page counts, seven occurred under President Obama.
Financial markets hate regulations even more than they hate taxes.
Obama's policies were holding the markets back.
Now, these same policies are either dead or dying.
Which brings me to an interesting question.
How is it that President Trump's Approval rating continues to be so low when underlying Consumer Sentiment is so high?
I addressed this question a bit yesterday in A Pollster's Prescient Warning to the Left.
It all comes to down to this simple quote by Mark Penn:
Americans liked President Obama for his way with words and his calm leadership style. They just opposed many of his policies. Trump is the mirror opposite. People are put on edge by his words while favoring a lot of the positions he is taking on issues.
Perhaps the most accurate and succinct assessment I have come across.
Penn continues:
The polls that failed to detect the full strength of President Trump on Election Day continue to underestimate the president's support for the job he is doing, paying way too much attention to the Twitter wars and ignoring the public support for many of the actions is undertaking.
Polls show the president's approval rating all over the lot. An Associated Press poll put it at 32 percent and suggests that only 24 percent see the country as going in the right direction. This strains credulity given what happened in the special elections against the Democrats.
And sums it all up:
For the first time in a decade, a plurality of people see the economy as moving in the right direction and 64 percent see the economy as growing. The voters give Trump significant credit for the economic upswing, and any read on his approval ratings have to take into account that moving the economy forward these days is seen as Job No. 1 for the president.
It is by watching the underlying public sentiment of what he is doing, and not his methods, that you see how polling better watch out here, as reality versus research will again be tested, and reality always wins.
Here's what's really going on.
Voters love what Trump is doing. They are just a little uncomfortable – a bit squeamish – about the way in which he  publicly speaks to get these things done.
Which is exactly why President Trump has been so successful. He is willing to act and speak in a manner that is appropriate – necessary – for this chaotic and transitional period.
Without President Trump's brash and confrontational stance against the obstructionist Left and the GOP RINOs, we wouldn't have these underlying conservative policies raised – much less addressed.
Markets – and Consumers – have noticed.
And Consumers are Voters.
So, the next time you see another negative poll on President Trump, take a quick peek at those Consumer Confidence Indices.
I truly believe they are far more representative of what is actually going on.
But don't tell the Democrats.
Let's keep this our little secret.
newer post  Russian Collusion – Bribes, Coverups, Clinton & Uranium One
older post  A Pollster's Prescient Warning to the Left