On July 14, 2017, Inspector General Michael Horowitz sent a letter in response to an earlier request from several Democratic Senators regarding the recusal of AG Jeff Sessions.
The Inspector General's letter contained only three short paragraphs: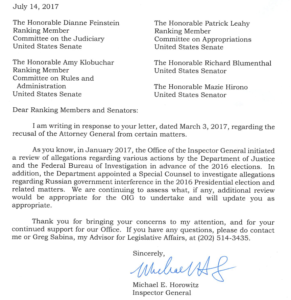 At the time, the letter was largely ignored – the Inspector General's wording seemed fairly innocuous.
What a difference a few months makes.
The Inspector General was suddenly responding to a letter the Democratic Senators had sent him more than four months earlier – on March 3, 2017.
The Senators' letter had been sent immediately following AG Jeff Sessions' recusal on the Russia Investigation. From the letter:
We therefore call on your office to conduct a thorough investigation into the Attorney General's recusal decision.
As part of this investigation, we ask that you consider whether and when the Attorney General consulted with ethics officials or others regarding his involvement in these investigations, his contacts with Russian officials, and his testimony before our Committee during the confirmation process. We also ask that you examine communications between Attorney General Sessions and the White House regarding recusal or the pending investigations, and the extent to which the Attorney General was involved in these investigations prior to his recusal. Please recommend appropriate action to address any problems that you discover.
The request from the Senators is unimportant. The use of the word "investigation" in their letter is important.
The date and the language of the Inspector General's response is even more important.
July 14, 2017, was exactly the same time when the Inspector General's Investigation had discovered FBI Agent Peter Strzok's texts.
We know this because of a timeline IG Horowitz laid out in a response to a letter from Senators Johnson and Grassley. Grassley and Johnson were specifically asking for more information regarding the timeline, and means of discovery, of the texts sent by demoted FBI Agent Strzok.
From Inspector General Horowitz's letter:
1. When and how did OIG become aware of the text messages between Peter Strzok and Lisa Page?
In gathering evidence for the OIG's ongoing 2016 election review, we requested, consistent with standard practice, that the FBI produce text messages from the FBI-issued phones of certain FBI employees involved in the Clinton e-mail investigation based on search terms we provided. After finding a number of politically-oriented text messages between Page and Strzok, the OIG sought from the FBI all text messages between Strzok and Page from their FBI-issued phones through November 30, 2016, which covered the entire period of the Clinton e-mail server investigation. The FBI produced these text messages on July 20, 2017. Following our review of those text messages, the OIG expanded our request to the FBI to include all text messages between Strzok and Page from November 30, 2016, through the date of the document request, which was July 28, 2017. The OIG received these additional messages on August 10, 2017.
2. When and how did OIG notify the Special Counsel Robert Mueller of the text messages?
On July 27, 2017, upon our identification of many of the political text messages, the Inspector General met with the Deputy Attorney General and the Special Counsel to inform them of the texts that we had discovered, and provided them with a significant number of the texts, so that they could take any management action they deemed appropriate.
Although the Inspector General's letter to Senator Grassley does not note exactly when the texts were first discovered, we can now be fairly confident the discovery was made on or before July 14, 2017.
Inspector General Horowitz received the letter from Senator Feinstein and company, requesting an investigation into AG Sessions, back on March 3, 2017. Horowitz didn't respond to the Senators for more than four months.
Now, re-read that paragraph from the IG's delayed response to Feinstein and Company:
As you know, in January 2017, the Office of the Inspector General initiated a review of allegations regarding various actions by the Department of Justice and the Federal Bureau of Investigation in advance of the 2016 elections. In addition, the Department appointed a Special Counsel to investigate allegations regarding the Russian government interference in the 2016 Presidential election and related matters. We are continuing to assess what, if any, additional review would be appropriate for the OIG to undertake and will update you as appropriate.
It's important to re-emphasize the use of the word "investigation" in the Senators' March 3, 2107. Although Horowitz uses the word "review" in his response, he appears to be legally responding to the word "investigation" in the Senators' letter.
Horowitz apparently hadn't been officially and/or legally taking on additional investigations prior to the discovery of Strzok's texts. Thus, he had felt no need to be responsive to the Senators' letter. However, after his discovery of the Strzok texts, Horowitz did begin engaging in a new investigation. An investigation of Mueller's Investigation.
Thus, the sudden need to respond to a four month old request.
I'm not sure I see the legal need to respond, but apparently IG Horowitz did. Perhaps he thought it prudent to exercise caution. Either way, IG Horowitz felt a legal need to send the letter.
I have maintained the Investigator General's Investigation has the authority to move in any direction it chooses. The language used in the IG Statement of Initiation of Review is very broad:
The Office of the Inspector General (OIG) will initiate a review of allegations regarding certain actions by the Department of Justice (Department) and the Federal Bureau of Investigation (FBI) in advance of the 2016 election.
If circumstances warrant, the OIG will consider including other issues that may arise during the course of the review.
Inspector General Michael Horowitz can look at anything he wants to.
Including the Mueller Investigation.
The investigation of Strzok's phone use was apparently formal enough that IG Horowitz felt compelled to respond – with a non-response – to the Democratic Senators who were requesting their own investigation of AG Sessions.
In other words, this was not simply a request for phone records from the FBI.
The FBI did not produce the phone records for examination until July 20, 2017. This appears to be a formal investigation – from at least July 14, 2017 – involving the FBI and Mueller's Investigation. Thus the sudden need to respond to Senator Feinstein and company.
The letter to Feinstein & Co. seems to indicate the establishment of a new area of formal jurisdiction.
I earlier wrote a post titled, The Enigma of the Mueller Investigation. In the article, I cover the seemingly contradictory aspects of Mueller's Investigation. I found myself returning to the parallel IG Investigation repeatedly:
Whatever Mueller's actual intent, whatever his investigation brings forth, the results of his investigation will be overlaid, compared and contrasted with whatever is forthcoming from the Inspector General's Investigation.
It was the Inspector General – not Mueller – who caught members of Mueller's team (Strzok and Page) sending damning texts.
That's a pretty explicit and unambiguous message that someone is looking directly over your shoulder…
A formal IG Investigation of your group is even more direct.
Mueller was appointed as Special Counsel on May 17, 2017, by Deputy Attorney General Rod Rosenstein. It likely took Mueller a few weeks to get his investigative group up and running. He had to formally submit a budget, find a location and put his group together.
Whatever the start date of actual investigative work, Mueller received a heavy tap on the shoulder from IG Horowitz on July 27, 2017. Deputy AG Rosenstein was also at this meeting.
Mueller had formally been on the job for two months – and had probably been conducting the actual investigation for only a month or so – when he was notified the Inspector General was now investigating his group.
Life comes at you fast.
I think it's worth re-stating the importance of this event.
Horowitz's investigation into Mueller's Group was formal enough that he felt legally compelled to suddenly respond to Feinstein and Company – after ignoring them for over four months.
Because the texts involve an FBI Agent and an FBI Lawyer, the investigation covered both the FBI and Mueller's team.
The investigation into the texts between Strzok and Page is still open.
We don't know with certainty which other investigations are closed, open, or continuing. Or how these investigations are defined. (Does the investigation into Strzok cover all investigative actions into Mueller's group).
Based on requests from Republican members of Congress, if certain cases were closed they will at least be re-examined.
It's possible other investigations into members of Mueller's team are ongoing.
An investigation into Deputy FBI Director Andrew McCabe is active.
From the Inspector General's response to Senators Grassley and Johnson:
3. Did OIG refer these allegations to the U.S. Office of Special Counsel to pursue a potential Hatch Act inquiry? If not, why not?
The Hatch Act, and its associated regulations, identify authorized and prohibited political activities for most executive department employees, including FBI employees. The Hatch Act permits expressions of personal opinions about candidates and issues. In contrast, political activity, which is defined as "activity directed toward the success or failure of a political party, candidate for partisan political office, or partisan political group" is prohibited in certain contexts. We are cognizant of these issues and will determine whether there is a basis to refer the allegations, along with relevant evidence we have gathered, regarding Page's and Strzok's text messages to the Office of Special Counsel upon completion of our review.
The investigation into Strzok and Page is still very much active. McCabe is certainly a part of this as well.
4. In connection with the OIG's review of the actions of DOJ and the FBI in advance of the 2016 presidential election, has the OIG received any similar allegations involving other government officials?
The OIG's review is ongoing, and we currently are in the process of completing our witness interviews and document review. Thereafter, we intend to issue a public report with our findings on these and the other issues we are reviewing, and we would be pleased to discuss them with you at that time.
Based on the OIG's response, it seems likely that other allegations have arisen. The investigation is active. We don't yet know its scope and additional targets. The OIG is looking at multiple issues.
Back to Mueller. In my earlier post, I noted the following:
Mueller hires a group of highly regarded lawyers – many of whom also appear to be highly partisan. Mueller's team has been hit with a series of disclosures – especially those on FBI Agent Peter Strzok and Associate Deputy Attorney General Bruce Ohr.
At the same time, the actual indictments brought forth by Mueller appear to be focused on stemming rampant influence peddling in Washington. The biggest casualty is actually the brother of long-time Clinton loyalist John Podesta.
Seemingly contradictory reference points leaving no logical conclusion.
Which is why I keep returning to the Inspector General's Investigation.
Mueller's hiring practices appeared highly partisan. But his actual indictments were anything but.
Now we know why. Mueller had been put on notice.
Not only does Horowitz have the ability to investigate Mueller's group, he actively is.
And has been since at least July 14, 2017.
Whatever original intentions Mueller had – good, bad, indifferent – it would seem logical to expect him to carefully follow protocol, stay within his investigative boundaries and proceed carefully.
newer post  The Significance of Rosenstein's Release
older post  The Enigma of the Mueller Investigation