Assistant Attorney General Stephen Boyd sent a letter to House Intelligence Chairman Devin Nunes yesterday.
Boyd is responsible for managing the DOJ's relationship with Congress – which is one reason why he was the one writing the letter.
There were other reasons as well.
Boyd was nominated by President Trump for the position of Assistant Attorney General on April 25, 2017. He also helped prepare Jeff Sessions for his conformation hearings as Attorney General.
Boyd worked for Jeff Sessions after graduating law school.
You can find a pdf of Boyd's letter here.
Here's a photo of the letter: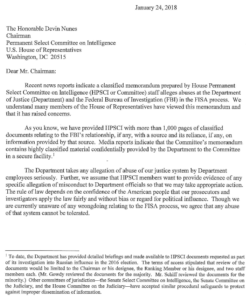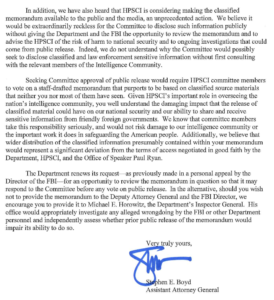 I would argue that it's important to bear in mind who is writing this letter when attempting to parse its meaning.
And emphasis matters.
From the letter:
We have provided HPSCI [House Permanent Select Committee on Intelligence] with more than 1,000 pages of classified documents relating to the FBI's relationship, if any, with a source and its reliance, if any, on information provided by that source.
The "source" being referenced is Christopher Steele.
Note Footnote 1:
To date, the Department has provided detailed briefings and made available to HPSCI documents requested as part of its investigation into Russian influence in the 2016 election.
This relates to a December 28, 2017 letter Nunes sent to Deputy AG Rosenstein requesting documents and interviews. Nunes received a confirming response from Rosenstein on January 3, 2017 promising all documents, interviews plus two additional unrequested – but crucial – interviews.
On January 5, 2018, the DOJ began turning these documents over to Nunes.
It's worth clarifying that submission of these documents by the DOJ/FBI to Chairman Nunes' House Intelligence Committee on January 5, 2018 is separate from the January 12, 2018 initial delivery of 1.2 million documents from Inspector General Horowitz to Chairman Bob Goodlatte's House Judiciary Committee.
These two events have often been confused.
Back to the letter:
Media reports indicate that the Committee's memorandum contains highly classified material confidentially provided by the Department to the Committee in a secure facility.
The Department takes any allegation of abuse of our justice system by Department employees seriously, Further, we assume that HPSCI members want to provide evidence of any specific allegation of misconduct to Department officials so that we may take appropriate action.
To me, this wording indicates one of two things.
High level officials at the DOJ – officials appointed by President Trump – have not yet seen the information sent by their own Justice Department to the House Intelligence Committee.
These same officials know that the information backing the House Intelligence Memo comes from another source.
A third possibility is a combination of the two.
The letter continues:
Though we are currently unaware of any wrongdoing relating to the FISA process, we agree that any abuse of that system cannot be tolerated.
Bear in mind that the FISA Court issued a damning 99 page ruling on extensive Section 702 violations on April 26, 2017. I cover this fairly extensively in The Uncovering – Section 702 "About" Inquiries, Independent Contractors & a New Narrative.
The violations found by the court are extensive, systematic and pervasive. The ruling is fundamentally disturbing.
The only way I can interpret Boyd's chosen language is that all Section 702 violations identified by NSA Rogers and the FISA Court have been halted. This is to be expected.
Boyd may be asking if any further violations have been uncovered and identified by documents underlying Nunes' House Memo. Documents that Chairman Nunes has seen. Either recently or back on March 21, 2017, when Nunes first met his confidential source at the Eisenhower Executive Office Building Information Facility at the White House.
In my April 2, 2017 article on the matter, an observation was made:
Gang of Eight members can request information from each intelligence agency BUT they cannot access summarized data – such as Presidential Daily Briefings – from the various intelligence agencies. The only place summarized intelligence exists would be the final destination of the summarized intelligence. The Presidential Daily Briefing (PDB) is assembled from multi-agency intelligence by the Director of National Intelligence. I do not know if the DNI keeps archives of the PDBs. The White House does keep PDB archives.
Followed by a couple more:
This could explain why Devin Nunes went to the Eisenhower Executive Office Building (EEOB) Information Facility at the White House. In fact, the EEOB is perhaps the only place Nunes could have ended up. There is some speculation that Nunes reviewed Obama's Presidential Daily Briefings – and that certainly makes sense on a number of fronts. The most obvious being, the EEOB is the only SCIF where Presidential Briefings would be physically held – they would exist no place else as they are summarizations. There is another possible reason why Nunes ended up at the EEOB. Where else could Nunes actually safely/secretly meet with his source and review classified data at the same time? He needed a secure facility that was NOT located at one of the various intelligence agencies.
Keep this in mind as we continue.
Back to Boyd's letter:
We have also heard that HSPCI is considering making the classified memorandum available to the public and the media in an unprecedented action.
We believe it would be extraordinarily reckless for the Committee to disclose such information publicly without giving the Department and the FBI the opportunity to review the memorandum and to advise the HPSCI of the risk of harm to national security and to ongoing investigations that could come from public release.
There are a multitude of investigations underway. Two very pertinent ones leap to mind.
One such investigation is Jeff Sessions' counterintelligence FBI task force into leaking. The other is the Inspector General's ongoing investigation into various actions of the Department of Justice and the Federal Bureau of Investigation in advance of the 2016 election.
We do not understand why the Committee would possibly seek to disclose classified and law enforcement sensitive information without first consulting with the relevant members of the Intelligence Community.
The people heading these investigations – which include FBI Director Christopher Wray and IG Horowitz – are certainly relevant.
We continue:
Seeking Committee approval of public release would require HPSCI committee members to vote on a staff-drafted memorandum that purports to be based on classified source materials that neither you [Nunes] nor most of them have seen.
It's this part of the letter that gives me the most pause.
It may also provide a further clue as to the letter's real intent.
Devin Nunes should have personally seen all relevant documents – as noted in A Strategic Tightening. From Nunes "confirming of terms" letter:
Committee investigators and staff will be provided access to all remaining investigative documents, in unredacted form, for review at DOJ on Friday, January 5, 2018. The documents to be reviewed will include all FBI FD-1023s and all remaining FBI Form FD-302s responsive to the Committee's August 24, 2017 subpoenas.
The only agreed-upon exception pertains to a single FD-302, which due to national security interests, will be shown separately by Director Wray to myself [Nunes] and my senior investigators during the week of January 8, 2018.
Nunes, as far as I can tell, was granted access to all documents – including the most sensitive one.
It's possible Nunes is the only person who has seen all documents.
Is it semantics – a situation where Nunes' staff reviewed a portion of the documents on behalf of Nunes.
If so, who else knows this.
The Conservative Treehouse summed up the likely makeup of the Nunes Memo as folllows:
What exactly is "The Nunes Memo"?  From all indications it is an outline written by senior intelligence committee staff, with major input from Devin Nunes describing evidence, people and events who conspired back in 2016 and 2017.  In essence it is a summary of facts, that Chairman Nunes knows to exist.
No-one actually knows what the underlying supportive material is, because no-one, other than Devin Nunes, has actually seen the full material.  Therefore people are 'jumping to conclusions' based on their own inherent reference points.
People are *assuming* the memo is heavily written around FISA-702 issues and documents (FISA application, Steele Dossier, wiretaps, surveillance, intercepts etc.), but no-one actually knows what is behind the memo, other than Devin Nunes.
Their article moves along similar themes and delves further into interviews with Susan Rice and Evelyn Farkas. It's very much worth the read.
The DOJ's letter:
We believe that wider distribution of the classified information presumably contained within your memorandum would represent a significant deviation from the terms of access negotiated in good faith by the Department, HPSCI, and the Office of Speaker Ryan.
Speaker Ryan is referenced because it was a June 3, 2018 emergency meeting with Ryan that led to the same-day agreement between Nunes and DOJ/FBI.
Jack Langer, a spokesman for Mr. Nunes, had a strongly worded response:
Agencies that are under investigation by congressional committees don't typically get access to the committees' investigative documents about them, and it's no surprise these agencies don't want the abuses we've found to be made public.
Furthermore, there were no limitations placed on disseminating this information, and we will continue to fulfill our oversight responsibilities in accordance with House rules.
This would all appear rather circular. The DOJ wants to review documents that they provided to Nunes while claiming that Nunes has not seen some of the documents they gave to him for his personal review. What gives.
I think there's a chance the final two sentences of Boyd's letter provide at least a partial answer:
Should you wish not to provide the memorandum to the Deputy Attorney General and the FBI Director, we encourage you to provide it to Michael E. Horowitz, the Department's Inspector General.
His office would appropriately investigate any alleged wrongdoing by the FBI or other Department personnel and independently assess whether prior public release of the memorandum would impair its ability to do so.
I think one purpose of Boyd's letter is a formal, albeit guarded, request that Nunes first clear any House Memo release with IG Horowitz as a means to ensure that nothing impairs the Inspector General's crucial investigation.
I think the second purpose relates to misdirection.
Which brings us back to the issue of Presidential Daily Briefings.
As I noted earlier, it's likely that what Nunes saw on that March 21, 2017 meeting was Presidential Daily Briefings – and all that implies.
From an earlier post:
Fast-forward to Tuesday, March 21 2017, when Devin Nunes met a classified source.
Mr. Nunes received a call from a person he has described only as a source. The call came as he was riding across town with a staff member in an Uber vehicle. Mr. Nunes quickly got out of the car and went to the White House. There, he has said he reviewed "dozens" of intelligence reports. He said he needed a secure location where people with security clearances could legally view classified information.
Nunes learned of the surveillance back in January 2016 – prior to Trump's infamous tweet claiming surveillance by Obama.
A visibly shaken Nunes gave an impromptu press conference to reporters:
From the press conference:
I will say this. The NSA has been very, very helpful. They are in constant communication with our team.
I have spoken to Admiral Rogers about these concerns and he wants to comply as quickly as he can.
I think the NSA is going to comply. But I am concerned about – we don't know whether or not the FBI is going to comply.
Most of this occurred from what I've seen in November, December and January.
Note: Intelligence gathering efforts by the NSD ended on October 26 2016, when Rogers informed the FISA Court. Dissemination of the information began in November 2016.
I have seen intelligence reports that clearly show that the President-Elect and his team were at least monitored and disseminated out in intelligence recorded channels.
Transcripts of both Nunes press conferences can be found here, courtesy of @DaveNYviii.
March 22nd, 2017 Devin Nunes Transcripts
Read transcripts of Rep. Devin Nunes' news conferences about Trump surveillance. #DevinNunes#ReleaseTheMemohttps://t.co/ajM4ghe2xP

— TrumpSoldier (@DaveNYviii) January 25, 2018
More quotes from Nunes' March 22, 2017 press conference:
The intelligence community incidentally collected information about U.S. citizens involved in the Trump transition. Details about persons associated with the incoming administration, details with little apparent foreign intelligence value were widely disseminated in intelligence community reporting. Third, I have confirmed that additional names of Trump transition team members were unmasked. And forth and finally, I want to be clear, none of this surveillance was related to Russia, or the investigation of Russian activities, or of the Trump team.
This appears to be all legally collected foreign intelligence under FISA, where there was incidental collection that then ended up in reporting channels and was widely disseminated.
The President himself and others in the Trump transition team were clearly put into intelligence reports that ended up in this White House and across a whole bunch of other agencies.
Reporter: Can you rule out the possibility that senior Obama administration officials were involved in this?
Nunes: No we cannot.
There's two issues here. There's additional unmasking of names…I don't know how many names were unmasked, but I know these additional unmaskings occurred. And then we have the additional issue of the names that were put into these intelligence reports.
I was able to determine that it looks like it was legal collection, incidental collection, that made itself into intelligence reports. It has to do with FISA, and there are multiple FISA warrants that are out there, but there's nothing criminal at all involved.
So where am I going with all this.
I think much of the information Nunes used to prepare the House Memo came from his March 21, 2017 meeting.
I think Nunes saw Presidential Daily Briefings – as noted in my April 2, 2017 article and elsewhere.
Exactly. Nunes went to Eisenhower SCIF to see PDB's (Presidential Daily Briefings). Which is infinitely better for the good guys. https://t.co/r1ffJHRVjd

— Jeff Carlson, CFA (@themarketswork) January 25, 2018
But I think one other person may have seen that information as well:
I really thought I recalled that Schiff ultimately did see the materials after WH invited them to do so and Schiff could no longer pretend he didn't have access. Found this. Schiff could be parsing words but… https://t.co/Hl3uodLuuT

— Jeff Carlson, CFA (@themarketswork) January 25, 2018
This is the tweet I found:
Viewed docs today at White House invitation. Here are my thoughts: pic.twitter.com/EZ5COuoVVU

— Adam Schiff (@RepAdamSchiff) March 31, 2017
I could be misunderstanding what Schiff is saying – but I don't think so.
Schiff could be parsing his words in a manner such that he didn't really read or fully examine the documents.
But I'm guessing he has.
Adam Schiff is almost certainly a major source of leaks…
Which is, in part, why I think Assistant Attorney General Boyd's letter serves two purposes.
First, Boyd wants to make sure that Nunes' information fully makes its way into the hands of Inspector General Horowitz.
IG Horowitz almost certainly already has this information.
But Horowitz doesn't know exactly what information Nunes has. Horowitz needs to evaluate the House Memo, along with underlying documents, to determine if release would be adverse to his investigation – which extends beyond the scope of Nunes' work.
Secondly, the premise behind Boyd's letter creates the assumption that everything underlying the House Memo comes from the January 5, 2018, DOJ document delivery.
Which steers adversarial eyes in the wrong direction.
I think the odds are decent that Boyd – and whomever directed him to write the letter – are working directly with Nunes.
Get the needed information to IG Horowitz while simultaneously creating the false impression the information is coming solely from the DOJ document delivery.
I may be wrong in thinking Boyd's letter has multiple facets to it. Perhaps it's nothing more than pure obstruction by the DOJ.
But ask yourself this question.
If so, what purpose does it serve.
The letter doesn't call into question the validity of any evidence that Nunes possesses. In fact, it lends credence to it.
The letter does question the committee's right to disclose the House Memo and underlying information – but only in a sideways fashion:
We believe that wider distribution of the classified information presumably contained within your memorandum would represent a significant deviation from the terms of access negotiated in good faith by the Department, HPSCI, and the Office of Speaker Ryan.
And the committee seems quite willing to legally dismiss this portion of the argument:
There were no limitations placed on disseminating this information, and we will continue to fulfill our oversight responsibilities in accordance with House rules.
Finally, the letter overtly offers a differing path – through IG Horowitz. A path I find unlikely to be offered if Boyd's letter was truly about obstruction.
Speaking of the Inspector General, this bit of information was released today:
Inspector General Michael E. Horowitz Letter to Senators Ron Johnson and Chuck Grassley #MissingTexts PDF>https://t.co/KjUByv2Bc2 pic.twitter.com/C105kX9lvX

— TrumpSoldier (@DaveNYviii) January 25, 2018
The Inspector General has recovered the missing FBI texts.
newer post  The Unfolding of a Congressional Strategy
older post  Senator Grassley – #ReleaseTheReferral