For any who don't think the MSM is in bed with the Left, read on.
The Daily Beast ran an article with the breathless headline, Devin Nunes Won't Say If He Worked With White House on Anti-FBI Memo.
A photo grab from the initial article: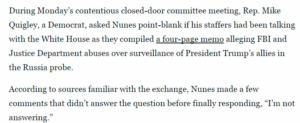 There was just one problem. The House Intelligence Committee decided to release the transcript of the meeting.
The transcript of Monday's House Intel meeting was just released, and it shows the exact opposite of what was claimed in this @DailyBeast article from yesterday. https://t.co/axaEZQpJ0R pic.twitter.com/gB6Ivrz5Qh

— Sean Davis (@seanmdav) January 31, 2018
A photo grab from page 23 of the actual House Intelligence Committee transcript: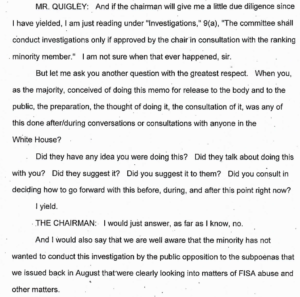 From the actual transcript:
QUIGLEY: When you, as the majority, conceived of doing this memo for release to the body and to the public, the preparation, the thought of doing it, the consultation of it, was any of this done after/during conversations or consultations with anyone in the White House.
NUNES: I would just answer, as far as I know, no.
Nunes explicitly denies a very specific question.
For those willing to parse the words "As far as I know", note that Nunes is answering for the 13 Majority House Intelligence Members. Not just for himself.
Somebody at @thedailybeast needs to explain why the transcript of Monday's House Intel meeting directly contradicts this article from yesterday. Nunes explicitly denied that he coordinated anything with the White House. pic.twitter.com/uClHDn9dfo

— Sean Davis (@seanmdav) January 31, 2018
Yes. Yes they do.
And the Nunes quote alleged by @thedailybeast — "I'm not answering" — appears exactly nowhere in the exchange with Quigley, according to the transcript.

— Sean Davis (@seanmdav) January 31, 2018
Davis is correct. "I'm not answering" is nowhere to be found. It wasn't said.
There is simply no way for @thedailybeast to explain their way around this. They got played, what they reported was false, and a complete retraction is due. https://t.co/c8heIdbBk0

— Sean Davis (@seanmdav) January 31, 2018
This was the initial response from the Daily Beast reporter:
Per our reporting yesterday, Nunes didn't answer a question from Quigley about coordination between his staff and the White House. Transcript says, "The chair will not entertain" pic.twitter.com/Sv9bXvvrKC

— Betsy Woodruff (@woodruffbets) January 31, 2018
Notice anything missing?
Why did you cut off the question Nunes answered and the charges he denied, while ignoring that your own headline/lede said he refused to deny the allegations? https://t.co/MQVgYEkbSf

— Sean Davis (@seanmdav) January 31, 2018
The Daily Beast began to backpeddle and issued a "correction" – of sorts:
Daily Beast has since edited its headline and inserted a mealy-mouthed "correction" that is also false. A denial and a non-denial are not substantively the same. False subhed and lede are still up. pic.twitter.com/NxhSsGzPSV

— Sean Davis (@seanmdav) January 31, 2018
There was an obvious explanation:
I'm beginning to suspect that reporters should not receive leaks from Dems on House Intel so credulously. https://t.co/nb4Qkc3yvy

— Mollie (@MZHemingway) January 31, 2018
A question:
How many times do reporters have to get burned by lies from House Intel Democrats before they stop uncritically peddling the falsehoods to their readers and viewers? https://t.co/c8heIdbBk0

— Sean Davis (@seanmdav) January 31, 2018
And an observation:
It's fascinating to watch reporters demand "underlying documents" for on-the-record statements while uncritically peddling unverified assertions from anonymous sources. https://t.co/c8heIdbBk0

— Sean Davis (@seanmdav) January 31, 2018
Meanwhile, MSNBC had already picked up the story:
Devin Nunes refused to answer when a colleague asked him if he had coordinated his surveillance memo with the White House, The Daily Beast has learned. https://t.co/xuBrXMwBIq

— Kyle Griffin (@kylegriffin1) January 30, 2018
And the Daily Beast continued to push its false narrative:
Now that the transcript's out, it bears out our story about Nunes evading whether he had White House aid on #ReleaseTheMemo – and more: "****As far as I know,**** no". Updated: https://t.co/Ds50mXlFaE

— Spencer Ackerman (@attackerman) January 31, 2018
Despite constant corrections:
The transcript directly contradicts what you reported and shows that a quote you included was fabricated. But other than that… https://t.co/Hp8ihNoNuM

— Sean Davis (@seanmdav) January 31, 2018
From multiple reporters:
The transcript does not bear out the initial headline on that story or the allegation. https://t.co/7OivU0sl8K

— Chuck Ross (@ChuckRossDC) January 31, 2018
It's obvious to all where the leaks originate from:
"Hey, guys, wouldn't it be cool if we gave Schiff a byline, rather than just running his leaks verbatim?"

"Yeah, it'll be a nice change." https://t.co/AzpwcgtDAH

— David Reaboi (@davereaboi) January 31, 2018
Omri Ceren stated the sad truth:
Nunes could publish video of Obama staffers hunched over terminal looking into Trump Tower thru a webcam, and a Brookings scholar would publish Post oped about how IC equities permit spying on Americans if it's Samsung webcam. Obama bro would tweet it & get 1200 RTs & 9000 likes. https://t.co/vkuzRY6Lxg

— Omri Ceren (@omriceren) January 31, 2018
And noted the new line of "Defense":
Yes. I'm sure there are infinite facts missing from Nunes memo. They almost certainly left out the proof for Dirichlet's theorem on infinite primes, for instance.

Question isn't what's missing but what's included. Does it show FBI used DNC oppo for politicized spying? https://t.co/LTpCj6hcxD

— Omri Ceren (@omriceren) January 31, 2018
At the same time the Daily Beast tango was underway, this happened:
Feinstein on FBI raising "grave concerns" about Nunes memo:

"It's clear the goal is to undermine the special counsel's investigation… The president shouldn't place personal or partisan interests above our national security."https://t.co/dDyEbmG3bc pic.twitter.com/roDYzrDT4F

— Ryan J. Reilly 🦅 (@ryanjreilly) January 31, 2018
Again, there were some problems:
And…. on cue…. the ideological political left begin using the falsely constructed claim "attributed to the FBI" as the basis for ongoing commentary therein. Again, #FakeNews on steroids. It's simply how @ryanjreilly and narrative engineers work. https://t.co/BLQQPzJO5W

— TheLastRefuge (@TheLastRefuge2) January 31, 2018
"Attributed to the FBI".
In effect, the FBI is calling this memo misleading and possibly tendentious. Prior arguments against release had focused on the risk of exposing sources and methods. Here the risk seems to be that the memo just isn't accurate.

— Shane Harris (@shaneharris) January 31, 2018
Someone in the FBI may have said this. But it wasn't an official FBI release.
Except, @shaneharris, the FBI never said this. You are creating #FakeNews. A single FBI agent saying you can "attribute this to the FBI", holds no more weight than a hotel valet saying "you can attribute" my opinion to Marriott International. https://t.co/baNC3C46Uo

— TheLastRefuge (@TheLastRefuge2) January 31, 2018
Source documents always present certain "problems" to false narratives.
Funny enough both this HUFFpo journalist and this WAPO journalist have same scoop, same time. 1 knows enough to cut the subject line reading to be attributed to the FBI while one does not. take a guess which one! @adamhousley @shaneharris @TheLastRefuge2 @PoliticalShort pic.twitter.com/C4aB60YAE2

— Jason Enzer (@enzerj) January 31, 2018
Source documents:
Here @ryanjreilly this is what "official sourcing" looks like. As in the FISA court officially citing that the Obama/Comey/Lynch DOJ/FBI officially lied on FISA-702 surveillance applications. https://t.co/SvQRK9hzjv and abused FISA data collection systems. pic.twitter.com/hJ7B2MKvZs

— TheLastRefuge (@TheLastRefuge2) January 31, 2018
And "Sources".
So you see @ryanjreilly , the same corrupt officials who were lying and abusing the FISA(702) system, have a vested interest in hiding the lies and abuse therein – and all subsequent investigation into their behavior. Hiding behind "sources say", is no longer a viable option. https://t.co/8Wixkr1Ee2

— TheLastRefuge (@TheLastRefuge2) January 31, 2018
There's a big difference.
Nunes, fed up with FBI obfuscation, issued a blisteringly blunt statement – almost more of a warning:
Having stonewalled Congress' demands for information for nearly a year, it's no surprise to see the FBI and DOJ issue spurious objections to allowing the American people to see information related to surveillance abuses at these agencies. The FBI is intimately familiar with 'material omissions' with respect to their presentations to both Congress and the courts, and they are welcome to make public, to the greatest extent possible, all the information they have on these abuses. Regardless, it's clear that top officials used unverified information in a court document to fuel a counter-intelligence investigation during an American political campaign. Once the truth gets out, we can begin taking steps to ensure our intelligence agencies and courts are never misused like this again.
And followed up with a second statement:
New: second statement from Devin Nunes, specifically addressing FBI charge that 'FISA abuse' memo contains 'material omissions of fact that fundamentally impact the memo's accuracy': pic.twitter.com/GQaNihNflr

— Byron York (@ByronYork) January 31, 2018
Representative Mark Meadows proposed a solution:
So the FBI is worried about omissions? Ok then–let's put all the documents out there. Tell Americans the full story.

I don't think they want that either, though–they've been stonewalling Congress for a year. It's time for full transparency. #ReleaseTheMemo https://t.co/lXZjS09UcR

— Mark Meadows (@RepMarkMeadows) February 1, 2018
Which is exactly what I stated would happen:
Meanwhile, that Memo will come out. Despite the best efforts of Democrats. And it will be bad – really bad – for the Left.
If Democrats chose to denigrate the House Memo – which they will – it may prove the impetus to release the underlying documents.
The Inspector General is already releasing them to Bob Goodlatte and the House Judiciary Committee.
The FBI needs a hard dose of sunshine.
It's not just time to release the House Memo.
It's time to release everything.
newer post  The House Memo's True Objective
older post  A Stunning State of the Union