I came across this twitter thread by pure chance.
It got my attention:
1. Republicans & @tuckercarlson @FoxNews say Democrats are turning California into a 3rd world country.

As lifelong Democrat & progressive it pains me say this: they're right.

And I just published a 100-page, data-driven report that proves it:https://t.co/azmb6psRmz https://t.co/dizF3gLoGM

— Mike Shellenberger (@ShellenbergerMD) March 3, 2018
You can find Shellenberger's full 102 page report here. An Executive Summary is provided here.
Shellenberger describes himself as a "leading pro-nuclear environmental activist". He is the President and Founder of Environmental Progress.
Shellenberger is also running for Governor of California.
You can find his Vision and Platform here.
Shellenberger was technically an Independent but is now running as a Democrat due to California's Top-Two Primary System.
As a Conservative, I would like to see Victor Davis Hanson become our next Governor. But that's not currently realistic.
Although I don't agree with some of Shellenberger's proposals – raising the minimum wage for instance – he's one of the first Democrat candidates I've seen who's using common sense approaches to very real problems plaguing California.
Shellenberger doesn't have the Democratic political machine behind him. He almost certainly won't be the next Governor of California.
But I hope both he and his ideas are given a chance to be heard and discussed. And there's always 2022.
I decided to take a closer look at Shellenberger's claims from his twitter thread. For each of his claims, I've attempted to provide independent verification.
2. California has the highest rate of poverty in America when we take into account our high cost of living (which we should, according to every serious demographer, the Census Bureau, & common sense). https://t.co/azmb6psRmz pic.twitter.com/nvyjOgJI3K

— Mike Shellenberger (@ShellenbergerMD) March 3, 2018
The U.S. Census Bureau began publishing the Supplemental Poverty Measure in 2011. This measure factors in the cost of housing, food, utilities and clothing, and includes non-cash government assistance as a form of income.
The official measure places California's poverty rate at 14.5%, slightly above the national average of 13.7%. 16 states have higher poverty levels than California by this measure.
Using the Supplemental Poverty Measure, things change dramatically.
California has the highest poverty rate of any state in the nation at 20.4%. This compares with the national average of 14.4%.
It's not even close. The statistical margin of error for California is 0.6%, the lowest of any state. Florida places a distant second at 18.8%.
Ironically, the District of Columbia – our nation's capital (not a state) – does place higher at 21.0%.
You can find this data buried on page 27 of the 32 page report.
3. We Californians love to look down on other parts of America — particularly the states that voted for Trump — as uneducated.

But guess what?

California students do much worse than students nationwide on math and reading pic.twitter.com/GzOPkijQG7

— Mike Shellenberger (@ShellenbergerMD) March 3, 2018
It's surprisingly difficult to obtain good data on schools on a state by state basis. Which should tell you something.
The Nation's Report Card (a federal site) provides state performance rankings for grades four, eight and twelve. The rankings cover various topics – reading, writing, mathematics, science.
Grade twelve rankings are meaningless as very few states even provide data.
For grades four and eight, California ranks towards the bottom in every single category. More data is available at the National Center for Education Statistics.
California employs a Dashboard System which looks at factors other than test scores and grade performance. You can find out more here.
If extremely low, declining performance on math and reading exams alone were enough to trigger state support, the number of California districts that could expect it would almost double from 228 to more than 400.
From the Bellwether Independent Review of ESSA State Plans – California:
The dashboard plan would allow schools to exit improvement status by declining less than they had in the previous year, rather than by increasing student performance.
The federal government recently notified the state that California's school accountability system might be out of compliance with federal education law, in part because of its diminished focus on academics.
4. We Californians claim we welcome newcomers to the state & moralize against those who don't agree with our liberal immigration policies

But guess what? We won't allow homebuilding, which has sent rents through the roof & caused worst homelessness crisis since Great Depression pic.twitter.com/KwD3x5zvqZ

— Mike Shellenberger (@ShellenbergerMD) March 3, 2018
California's Legislative Analyst's Office produced a March 2017 report, California's High Housing Costs: Causes and Consequences, which noted the following:
Between 1970 and 1980, California home prices went from 30 percent above U.S. levels to more than 80 percent higher. This trend has continued. Today, an average California home costs $440,000, about two–and–a–half times the average national home price ($180,000). Also, California's average monthly rent is about $1,240, 50 percent higher than the rest of the country ($840 per month).
A second LAO report, Do Communities Adequately Plan for Housing, discusses the role of zoning and approvals used by municipalities to limit building.
Some facts from a recent article:
Home prices in California are more than twice the national average and 70 percent of Californians can't afford to buy a home.
16 of the 25 least affordable communities in the US are in California.
56 percent of state voters say they may have to move because of a lack of affordable housing. One in four say they will relocate out of state.
30 percent of California tenants put more than 50 percent of their income toward rent and utilities. Economists consider 30 percent the limit.
California needs to double the number of homes built each year to keep prices from rising faster than the national average.
In Georgia, Texas and Florida, it can take a year and a half from concept to permits. In California, just the process from concept to approvals, is five years – that does not include the environmental lawsuits faced by 90 percent of projects.
5. We Californians love lecturing others about our commitment to racial & economic equality, but guess what? We have the highest levels of inequality of any state.https://t.co/azmb6psRmz pic.twitter.com/1q8owOG69Q

— Mike Shellenberger (@ShellenbergerMD) March 3, 2018
Here's a statistic from the National Resource Network that surprised me:
California has the highest concentration of economically challenged cities in the nation. In total, nearly 12 million people live in these distressed communities, a population equal to that of the state of Ohio.
California is home to 26% of our nation's most "economically challenged" cities based on poverty and unemployment. The population of these "economically challenged" cities represents 31% of California's total population.
The Public Policy Institute of California produced a May 2016 report titled, Income Inequality and the Safety Net in California.
Top incomes are 40 percent higher than they were in 1980, while middle incomes are only 5 percent higher and low incomes are 19 percent lower.
Roughly 15 percent of the labor force is either unemployed or underemployed, a smaller share of the population is participating in the labor force than before the recession, and poverty rates remain stubbornly high.
A chart from page 4 illustrates the gap: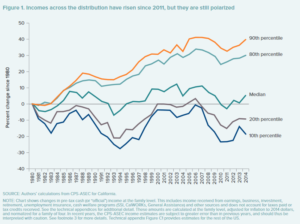 Here are two articles on the topic:
California: The Nation's Most Unequal State
High Flying California Charts It's Own Path – Is a Cliff Ahead.
6. Last weekend, Democrats celebrated selves & denounced Republicans as heartless while all around them thousands of homeless people suffered hunger, violence, & worst hepatitis-C outbreak in decades.

Data show homeless deaths on street are skyrocketing

https://t.co/5BcvTCsPQ0 pic.twitter.com/Qo1yo7SmeN

— Mike Shellenberger (@ShellenbergerMD) March 3, 2018
The U.S. Department of Housing and Urban Development produced a study, The 2017 Annual Homeless Assessment Report.
California had 134,278 homeless individuals – 25% of the nation's homeless population.
California accounted for nearly half of all unsheltered people (homeless without shelter facilities) in the country in 2017 (49% or 91,642 people).
California experienced the largest absolute increase in homeless in 2017 (versus 2016) and the second largest percentage increase.
A January 10, 2018 letter to the Los Angeles County Board of Supervisors from Department of Mental Health Director Dr. Jonathan Sherin, put forth some statistics:
There were 831 homeless deaths in Los Angeles County in 2017 – up 16% YOY and up 81% since 2013.
The number of individuals with mental health issues rose by 28% from 2015 to 2017.
MEC data indicated that a significant number of these deaths were due to preventable or treatable medical conditions such as: cardiovascular disease, pneumonia, diabetes, cancer, cirrhosis, severe bacterial infections.
7. We Californians smugly claim to have balanced our budget — it's a lie.

In truth, a corrupt Democratic Party owned by public employee unions has saddled us with a $366 billion debt — that's nearly $40,000 for every Californian family. https://t.co/azmb6psRmz pic.twitter.com/oelCeez1t5

— Mike Shellenberger (@ShellenbergerMD) March 3, 2018
The California budget contains over $131.7 billion in general fund spending – the largest budget in California history
The top marginal income tax rate is now 13.3 percent, the highest state income tax rate in the country.
California spends 4.7 times as much per mile of state-controlled highway as the national average yet California ranks 47th for highway conditions.
California's pension debt is, by some measurements, close to a trillion dollars:
If you total up the unfunded liabilities of all state and local public pension systems in California, the projected debt comes to around $333 billion. But that's a conservative figure based on official reports. It could be up over $1 trillion.
California pension systems are only 69% funded, meaning they can project enough money to pay 69% of what's promised. They're also the largest and second-largest public pension funds in the country.
CalPERS has unfunded liabilities — benefits promised compared with anticipated funding — of $136 billion. For CalSTRS, unfunded liabilities amount to $87 billion.
These pension funds use higher rates of assumed investment returns in their projections. A small change in the assumed rate of return creates massive changes in the unfunded liabilities.
CaLPERS has always been overly aggressive in its use of assumed rates of return. I should know. I used to manage some money for their funds.
8. California moralizes about its commitment to the poor — in truth, we are kicking them out.

Last year, *half* of all Californians said they had considered moving — half of them considered moving out of statehttps://t.co/azmb6psRmz pic.twitter.com/nsmzEF4LRB

— Mike Shellenberger (@ShellenbergerMD) March 3, 2018
According to a recent Legislative Office Report, from 2007 to 2016, about 5 million people moved to California from other states, while about 6 million left California.
On net, the state lost 1 million residents to domestic migration—about 2.5 percent of its total population.
Families with kids and those with only a high school education predominate among those moving from California to its top destination states (Texas, Arizona, and Nevada). College-educated 18 to 35 year olds led the way among those moving to California from its top feeder states (New York, Illinois, and New Jersey).
California outbound migration is nicely captured by a recent study of U-haul rates:
A one-way rental for an outbound 26-foot truck leaving San Jose for Las Vegas is almost $2,000. But the price for a 26-foot truck going in the opposite direction from Las Vegas to San Jose is only $121, with four days of travel allowed.
In contrast, a one-way car rental from Hertz from the Las Vegas airport to the San Jose airport for four days is about $800 for a compact car and about $1,300 for a full-size car and $2,100 for a Chevy Suburban SUV. U-Haul trucks are in such short supply in San Jose that it offers them almost for free ($121).
The principles of Supply & Demand at work.
9. California is hostile to manufacturing, which offers high-wage jobs for working people

Our electricity prices rose *five times* more than in rest of U.S.https://t.co/azmb6psRmz pic.twitter.com/KlxLo5ZKzT

— Mike Shellenberger (@ShellenbergerMD) March 3, 2018
The LA Times completed an investigative report in early 2017:
California has a big — and growing — glut of power. The state's power plants are on track to be able to produce at least 21% more electricity than it needs by 2020. And that doesn't even count the soaring production of electricity by rooftop solar panels that has added to the surplus.
To cover the expense of new plants whose power isn't needed Californians are paying a higher premium to switch on lights or turn on electric stoves. In recent years, the gap between what Californians pay versus the rest of the country has nearly doubled to about 50%.
Although California uses 2.6% less electricity annually from the power grid now than in 2008, residential and business customers together pay $6.8 billion more for power than they did then.
Give the investigative article a read – it's eye-opening.
Chief Executive publishes an annual list of the best and worst states in which to do business. According to a ranking of states by hundreds of CEOs, California placed last for the sixth consecutive year:
Texas was ranked No. 1 for the 13th straight year in 2017 by the hundreds of CEOs surveyed by Chief Executive. Florida was No. 2 for the fifth year in a row.
On the other end of the spectrum, California anchored the bottom of the list at No. 50 for the sixth consecutive year.
California's costly tax and regulatory policies prompted more than 10,000 businesses to leave the state, reduce their operations or curtail plans to locate here between 2008 and 2015, according to a report from Spectrum Location Solutions.
10. California has long claimed to be a corruption-fighter.

In truth we have most corrupt government in America — a consequence of one-party rule.

Gov. Jerry Brown put in place corrupt network of friends & family that steals *billions* from taxpayers https://t.co/azmb6pKsL9

— Mike Shellenberger (@ShellenbergerMD) March 3, 2018
The amount of time and research required for this topic exceeds the scope of this article. As a result, I'm posting some links to articles on this topic.
Corruption Scandals Haven't Curbed Lavish Gift-Giving to California Lawmakers
Will Next Governor End California Government Corruption
An In-Depth look at Public Corruption in California
California politicians stole their money. Will that make them care about democracy?
How California is Missing in Action on Corruption
Corruption and Collusion in California Labor Board
California Focus: Just How Rampant is Corruption in State Government
A Guide to Leland Yee Corruption Scandal
It appears the California Public Utilities Commission, which has been the subject of a long-running investigation into corruption, is particularly worthy of attention:
Legislators Slam California Public Utilities Commission For Undermining Attorney's General Investigation
Agency Probes Whether California Dem Party Funneled Illicit Oil Donations to Governor
Attorneys Suggest Evidence Isn't Safe at CPUC Amid Federal Investigation
Brown's Dirty Hands
State Corruption Probe Targets Brown, Utilities
Political Watchdog won't Investigate Brown over 'Dirty Hands' Report
Environmental Progress Urges US Justice Department Action Against Corrupt California Utility Commission – Note: This article is by Shellenberger. I included it as it contained useful references and details.
The Center for Public Integrity gave California an overall C- grade in their State Integrity Investigation. Sadly this was considered a good score.
Note: The report dates back to 2015. I'm inclined to believe the situation has degraded further.
California received two F grades –  for Public Access to Information and Judicial Accountability.
It is exploitation in the extreme. https://t.co/azmb6psRmz pic.twitter.com/u4JVugvNBw

— Mike Shellenberger (@ShellenbergerMD) March 3, 2018
I am going to stay away from the emotionalism in Point #11 and stick with facts.
Also see responses to Point #4.
California's Department of Housing and Community Development produced a 209-page report, California's Housing Future: Challenges and Opportunities. On page 49 an estimate is provided:
McKinsey Global Institute estimates that California's housing shortage costs between $143 billion and $233 billion per year in lost economic output primarily from consumption that is crowded out by housing costs and lost construction activity.
The McKinsey report, A Tool Kit to Close California's Housing Gap: 3.25 Million Homes by 2025, contained the following:
The housing shortage not only is costly for people renting or buying homes, but it also weakens California's economy as a whole. We calculate that the housing shortage costs the California economy between $143 billion and $233 billion per year.
This estimate does not take into account broader costs to health, education, and the environment, and we therefore believe that it is conservative and that the real costs are likely much higher. There are three sources of cost to California's economy in our analysis:
Households that spend a large share of income on rent or mortgage payments have less money to spend elsewhere. We estimate that California's high housing costs crowd out $53 billion to $63 billion of consumption per year.
California's housing shortage is also a lost opportunity for the construction industry, which drives growth in the economy more broadly. Typically, every $1 of output from the construction industry creates $2.15 in total economic output. We estimate that lost construction activity costs the state economy $85 billion to $165 billion per year.
The housing shortage also contributes to homelessness. In addition to the suffering that the homeless endure, the state spends $5 billion per year to provide shelter, emergency room visits, policing, mental health interventions, and other services to this vulnerable population.
12. California sets aside 5x more land used for ranching & farming than for cities & suburbs in name of environment, but that's greenwashing

Our cities & suburbs are home to coyotes & mountain lions while our cattle ranches are destroying biodiversityhttps://t.co/azmb6psRmz pic.twitter.com/22Fy9apiLn

— Mike Shellenberger (@ShellenbergerMD) March 3, 2018
Greenwashing is the use of marketing to portray an organization's products, activities or policies as environmentally friendly when they are not.
But, farms are not the problem. Today's farms are more efficient and environmentally friendly than at any other time in history.
From a New York Times article, Why Industrial Farms are Good for the Environment:
Large farmers – who are responsible for 80 percent of the food sales in the United States, though they make up fewer than 8 percent of all farms, are among the most progressive, technologically savvy growers on the planet. Their technology has helped make them far gentler on the environment than at any time in history.
And a new wave of innovation makes them more sustainable still. These technologies reduce the use of water and fertilizer and harm to the environment.
Improvements in agricultural technologies and production practices have significantly lowered the use of energy and water, and greenhouse-gas emissions of food production per unit of output over time.
United States crop production now is twice what it was in 1970. Agriculture is using nearly half the labor and 16 percent less land than it did in 1970.
It's true that pasture beef produces more methane, takes longer to mature and uses greater resources than industrial beef –  but that's not the primary issue. Land use for cattle ranching is really just a by-product of a larger issue.
Shellenberger is ultimately referring to a separate problem – California's 1970 California Environmental Quality Act or CEQA.
From a San Diego Union Tribune article:
Infill is the use of vacant or underused land in already-developed areas for new construction.
A huge obstacle to this environmentally virtuous approach is the California Environmental Quality Act, or "CEQA." This 1970 law ensures that governmental decision makers are made fully aware, via an open process, of all significant environmental impacts that might result from one of their decisions, and that those impacts have been minimized.
The problem is that CEQA applies the same process to putting housing on an urban parking lot as in a coastal wetland. And that makes infill development really tough.
It takes a lot of money and time to satisfy CEQA. Neighborhood projects like pocket parks or traffic calming are often dead on arrival, not because of construction costs, but because governments can't spare hundreds of thousands of dollars for the environmental review process.
Private projects have to bear these costs too, as well as the costs of time. Preparing studies, responding to comments and scheduling hearings can take several years. The litigation that follows a local government approval, even if frivolous, typically delays the project by at least another 18 months.
Many developers won't even consider building affordable housing because once the anticipated costs of CEQA preparation and upfront litigation are factored in.
CEQA lawsuits can be filed by anyone – even a business competitor or one nearby resident – for motives unrelated to the environment. Opponents can file anonymously under the guise of a "public interest" group, so that nobody knows who the real opponent is. And community planning can be entirely undercut.
For more on CEQA see here.
13. There is a better way.

Republicans & Democrats, liberals & conservatives, libertarians & socialists must unite against the aristocrats who are destroying our beautiful state

We must stop letting the feudal elite divide our natural coalition.https://t.co/1cOU1LxCYE

— Mike Shellenberger (@ShellenbergerMD) March 3, 2018
Can you imagine if moderate Democrats, independents and Republicans came together and found a moderate ground to move forward in California politics?
14. These are the big issues facing California:

— Allowing more homebuilding everywhere;

— Making taxes fair. They're too high for newcomers, young & middle-class & turn property-rich into parasites;

— Modernizing our schools;

— Embracing cheap energy & manufacturing

— Mike Shellenberger (@ShellenbergerMD) March 3, 2018
I mostly agree. But taxes should be reduced at all levels. And school funding is not the problem. How those funds are spent is the problem.
But Shellenberger raised many good points throughout.
15. I believe sensible liberals & conservatives can find common ground against the aristocrats, public employee unions, & subsidized housing industry.

How? Check out my recent conversation with thoughtful libertarian, @RubinReport https://t.co/Yia4cy3Cuw

— Mike Shellenberger (@ShellenbergerMD) March 3, 2018
I don't know that it's possible. But I'd like to think so.
Shellenberger has raised many issues worth discussing. He comes across as 1970's moderate Democrat.
Excellent, comprehensive analysis by US News & World Report ranks California lowest (50th) in quality of life, 44th in K-12 education, 43rd in fiscal stability, 44th in environmental quality, & 46th in opportunityhttps://t.co/95mQ343XaU

— Mike Shellenberger (@ShellenbergerMD) March 1, 2018
Read the U.S. News report. It's predictably depressing.
If you've been following my website, you probably know I'm a Constitutional Conservative.
For those curious I've previously laid out my personal positions here.
As I've said, I would like to see Victor Davis Hanson become our next Governor. But that's not currently realistic.
And while I don't agree with his more liberal policies, Shellenberger seems to be bringing a common-sense approach to the many problems facing California.
I intend to keep an eye on him as things progress.
Is @ShellenbergerMD the one to bring some sanity back to the Democrats of California? Thoroughly enjoyed our chat: https://t.co/7FlHBooqV4 pic.twitter.com/hngFYISica

— Dave Rubin (@RubinReport) March 1, 2018
Here's the video of Shellenberger on the Rubin Report. It's worth a watch:
newer post  Mark Levin & Devin Nunes – A Case-Building Interview
older post  Why I Support Trump's Tariff Proposal