The Office of the Inspector General put out a report aptly titled, A Report of Investigation of Certain Allegations Relating to Former Deputy FBI Director Andrew McCabe.
It was damning.
McCabe lied multiple times – and he lied under oath.
McCabe interviewed:
5-9-17 -under oath by FBI agents w/INSD – Lack of Candor Under Oath (LoCUO)
7-28-17 – under oath by the OIG in a recorded interview – LoCUO
11-29-17 – under oath by the OIG in a recorded interview – LoCUO

OIG had McCabe under oath – in July '17.

— Jeff @ themarketswork (@themarketswork) April 13, 2018
Here's the full report:
DOJ OIG Report on Andrew McCabe – April 13th Release by The Conservative Treehouse on Scribd
Here is a quick summation of findings: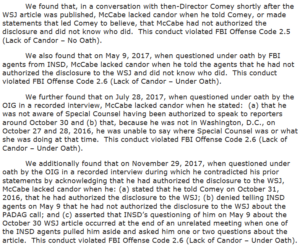 We already knew McCabe had lied. But some other details also presented themselves.
Important Note: There are repeated references to McCabe's Special Counsel – or just "Special Counsel". This is NOT Mueller.
The Special Counsel is not specifically named but her true identity is readily apparent.
The Special Counsel is Lisa Page – of Peter Strzok fame.
The quick summation is this.
On October 23, 2016, Devlin Barrett (now w/Washington Post) published an article in the Wall Street Journal.
I discussed it in an October 24, 2016 post. You can find an updated discussion here.
Barrett's article focused a significant amount of unwanted – but well-deserved – attention on McCabe.
On October 24, 2016, Barrett emailed the FBI's Assistant Director for Public Affairs – noting that he was pursuing a follow-up article.
Barrett was inquiring after reports that McCabe had instructed agents to effectively "stand down" on the ongoing Clinton Foundation Investigation:
McCabe himself gave some instruction as to how to proceed with the Clinton Foundation probe, given that it was the height of election season and the FBI did not want to make a lot of overt moves that could be seen as going after [Clinton] or drawing attention to the probe.
Barrett was asking if these reports were accurate and if there was "Anything else I should know".
Barrett had sources who were adamant that McCabe gave a purported order to "stand down" on the CF Investigation before the 2016 presidential election, implying that McCabe wanted to shut down the investigation for improper reasons.
McCabe decided to leak a phone conversation that portrayed McCabe as being tough on the Clinton Investigation.
Here's the portion from McCabe that ended up in Barrett's October 30, 2016 article, FBI in Internal Feud Over Hillary Clinton Probe:
According to a person familiar with the probes, on Aug. 12, a senior Justice Department official called Mr. McCabe to voice his displeasure at finding that New York FBI agents were still openly pursuing the Clinton Foundation probe during the election season. Mr. McCabe said agents still had the authority to pursue the issue as long as they didn't use overt methods requiring Justice Department approvals.
The Justice Department official was "very pissed off," according to one person close to McCabe, and pressed him to explain why the FBI was still chasing a matter the department considered dormant. "Are you telling me that I need to shut down a validly predicated investigation?" Mr. McCabe asked, according to people familiar with the conversation. After a pause, the official replied "Of course not," these people said.
That portion of the article was leaked by Lisa Page – under McCabe's specific direction – to Barrett.
McCabe would then lie multiple times – including while under oath – about having done so.
McCabe first lied to the FBI's Inspection Division on May 9, 2017. It was here the cracks appeared:
McCabe: I do not know the identity of the source of the information contained in the article… I gave no one authority to share any information relative to my interaction with the DOJ executive with any member of the media.
Lisa Page was source of the information. Actually, McCabe was her source.
McCabe directly authorized Page to share information with Barrett – and Page did so thinking she had been granted legal/official authorization to do so.
Page 18 of the Report shows us what happened:
On Friday, July 28, 2017, the OIG interviewed McCabe under oath in connection with its ongoing review of various FBI and Department actions in advance of the 2016 Election. The primary focus of the interview was to determine McCabe's awareness of the existence of certain text messages between Special Counsel and DAD [Strzok] that the OIG had recently discovered.
During the course of the interview, the OIG showed McCabe text messages dated October 27, 28, and 30 from Special Counsel to DAD, indicating that Special Counsel had been in contact with WSJ reporter Barrett and appeared to have been a source for the October 30 WSJ article. At the time of the interview, the OIG was not aware of INSD's May 9 interview of McCabe.
Lisa Page, when confronted with McCabe's denials, produced texts refuting the Deputy FBI Director's lies.
It was these texts that led to the Inspector General uncovering the thousands of texts between Strzok and Page.
At some point, Lisa Page contradicted McCabe's assertion to INSD – leading to her producing texts to prove her story to IG. Likely happened before July 14, 2017.

From 12/14/17: https://t.co/y62D7FahQC

— Jeff @ themarketswork (@themarketswork) April 13, 2018
For reasons laid out here and here – it appears the Inspector General uncovered the broader series of texts between Strzok and Page on or before July 14, 2017.
Now we have clarity as to exactly what brought the texts to the attention of the Inspector General to begin with.
McCabe showed some nasty character traits. On multiple occasions he blamed subordinates for the leaks to Barrett – when he was the one doing the leaking:
W-ADIC told the OIG that he received a call from McCabe regarding the October 30 WSJ article and that McCabe admonished him regarding leaks in the article. According to W-ADIC, McCabe told him to get his house in order."
W-ADIC was the Assistant Director in Charge of the Washington Field Division.
There are other conclusions to be drawn from the Inspector General's Report on McCabe.
Note that nowhere in the Report are the myriad of other issues specifically addressed.
The Clinton Foundation Investigation is mentioned – but only as it pertained to the specific instance of McCabe leaking to Barrett.
My point is this.
The Inspector General's Report is highly compartmentalized. This is not the final word on McCabe.
Nor should omissions of other topics be viewed as lack of investigation.
The Inspector General is rolling out his reports in phases.
This is an appropriate and helpful way to view the IG's Investigation:
Phase I – The Clinton Email Investigation.
Phase II – Carter Page FISA Application.
Phase III – Russia-Trump Investigation.
The McCabe Report was merely a preamble to what's coming.
The first – regarding the Clinton Email Investigation – is now scheduled for May 2018:
The complete report is now due in May, per Michael Horowitz letter to @ChuckGrassley
👇 pic.twitter.com/2NyTobbsjN

— Jarred Kusher (@JarredKushner) April 13, 2018
The Inspector General's letter to Grassley:
As a result of potentially important additional information and documents that recently came to our attention, and the interviews they have required us to conduct, my expectation is that we will issue our report in May, absent any additional new developments.
The OIG's misconduct investigation of Mr. McCabe did not originate as part of the OIG's election-related review.
Footnote 1:
The election-related review that is the subject of our forthcoming report is separate from the review that the OIG initiated in March 2018 of the Department's [DOJ] and the FBI's compliance with laws, policies and procedures in applications filed with the U.S. Foreign Intelligence Surveillance Court relating to a certain U.S. person.
Phases…
In my opinion, there are two fundamental stories that will ultimately unveil the entirety of what's transpired in Washington:
John Brennan's role in establishing the FBI's Trump-Russia Investigation and pushing the Trump-Russia Narrative.
FISA Abuse committed by the DOJ's National Security Division and the FBI's Counterintelligence Division.
For more see:
The Electronic Communication, Redacted Names & John Brennan – Details Brennan's Role in establishing the FBI's Investigation into Trump and use of foreign intelligence.
John Brennan's Role in the FBI's Trump-Russia Investigation – Outlines Brennan's Role through January 2017.
The Uncovering – Mike Rogers' Investigation, Section 702 FISA Abuse & the FBI – Details NSA Director Rogers' Role in bringing to light significant FISA Abuse involving the FBI's Counterintelligence Division and DOJ's National Security Division.
newer post  The FBI's Private Contractors – FISA Abuse, the Steele Dossier & A Timeline
older post  The Electronic Communication, Redacted Names & John Brennan