There are two ways to do something…the right way, and again – Navy SEAL saying
The Inspector General's Report will now be released on June 14, 2018. The Inspector General will testify before the Senate Judiciary Committee on June 18, 2018.
Note: This is the first time Inspector General Horowitz has provided a hard date for release of his Report. Previously, everyone has been forced to infer release dates based on testimony scheduling.
IG Horowitz notifies Grassley that #OIGreport will be released on June 14th

Testimony to Senate Judiciary Committee is moved to June 18th pic.twitter.com/aQZOS9tWkB

— Oconus Falco (@Nick_Falco) June 7, 2018
There's something particularly auspicious about the chosen release date:
President Trump has chosen what his birthday present is this year.

I look forward to June 14th. pic.twitter.com/oJZfhnB9G8

— The_War_Economy (@The_War_Economy) June 7, 2018
June 14th is indeed President Trump's birthday. He will be 72 years old.
There will probably be much wailing and gnashing of teeth from the talking heads.
This is misguided. And should be ignored.
There's an intense amount going on behind the scenes – as evidence by all the activity from Grassley. The release needs to be done correctly and results are more important than timing.
This date, while not set in stone, is the firmest date we've received.
The Inspector General's letter can be found here. Photo-grabs below: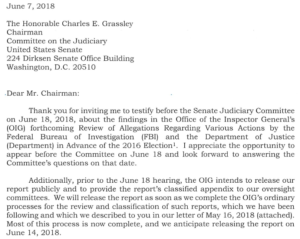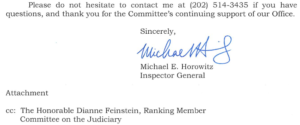 We've already witnessed the start of the media spin. The intent appears clear. Stop the political damage at Comey – who stands between the DOJ and more importantly, the Obama Administration.
Sundance at the Conservative Treehouse discusses the strategy here.
Expect leaks and narrative framing to continue in front of the IG Report's release. Expect the media spin to accelerate following the release. Attacks on the Inspector General's credibility are to be anticipated.
Recall what will be covered in the pending Inspector General Report – events undertaken in the Clinton Email Investigation – along with actions by the DOJ & FBI in advance of the 2016 Election.
From the Inspector General's January 12, 2017 Initiation of Review:
The Office of the Inspector General (OIG) will initiate a review of allegations regarding certain actions by the Department of Justice (Department) and the Federal Bureau of Investigation (FBI) in advance of the 2016 election.
The Inspector General's Report is expected to between 400 to 500 pages in length. Importantly, it won't be the last word. There will be at least one more Inspector General Report forthcoming – perhaps two.
How I loosely view the Inspector General's series of Investigations:
Preamble – The McCabe Report
Phase I – The Clinton Email Investigation and certain Election events.
Phase II – Carter Page FISA Application. Includes Stefan Halper's actions.
Phase III – Russia-Trump Investigation & Russia Narrative.
Segments and findings will bleed from one phase to other but this provides a simple framework of the Inspector General's approach.
It's equally possible Phase II & III are blended into one final IG Report.
Expect the IG Report to be dry and factual – replete with findings, recommendations and referrals. Given the anticipated length, details will continue to be uncovered post-release.
The Inspector General's Report should be available and issued from these sources of information:
Twitter account @JusticeOIG – Office of the Inspector General – DOJ
Companion website Office of the Inspector General – Justice.
Twitter account @OversightGov – All Federal Inspector General Reports.
Companion website Oversight.gov – All Federal Inspector General Reports.
Oversight.gov/reports – Data repository for Inspector General Reports.
Oversight.gov/investigations  – Data repository for Inspector General Investigations.
Have patience. To do things right is more important than to do them quickly.
newer post  Missing Timeline from Papadopoulos Statement of Offense Hides Millian
older post  The Pending IG Report & Strzok Texts