On March 23, 2018 I wrote about a letter – and a subpoena – sent by Bob Goodlatte to Deputy AG Rod Rosenstein.
You can find his press release here. A pdf of his letter and subpoena here.
From Goodlatte's Letter:
Four months have passed since Chairman Gowdy and I, along with Representatives Jordan, Meadows, Buck, and Ratcliffe, wrote you seeking documents related to our ongoing investigation regarding charging decisions in the investigation surrounding former Secretary Clinton's private email server in 2016.
In addition, in early February, I wrote the Department and the Federal Bureau of Investigation seeking documents related to potential abuses of the Foreign Intelligence Surveillance Act.
You can find Goodlatte's February 1, 2018 FISA Abuse letter here. It contained five requests. The fifth was particularly interesting:


Goodlatte also sent a January 2018 letter to Rosemary M. Collyer, the presiding judge of the FISA Court requesting materials "about potential abuses of the Foreign Intelligence Surveillance Act":
As the Presiding Judge of the FISC, you must be similarly concerned that the Executive Branch allegedly used an unverified dossier as evidence showing probable cause that someone connected with the Trump campaign, Carter Page, was an agent of a foreign power.
Rosemary M. Collyer is the judge who wrote the 99 page April 26, 2017 Memorandum Opinion and Order regarding the findings by NSA Mike Rogers.
This FISA Court ruling, unsealed by Director of National Intelligence Dan Coates, revealed some grave abuses. I cover the entire ruling in The Uncovering – Mike Rogers' Investigation, Section 702 FISA Abuse & the FBI.
Goodlatte's March 22, 2018 Subpoena expanded on his February 1st letter. Instead of five requests, nine were made. Requests 5-9 were particularly noteworthy: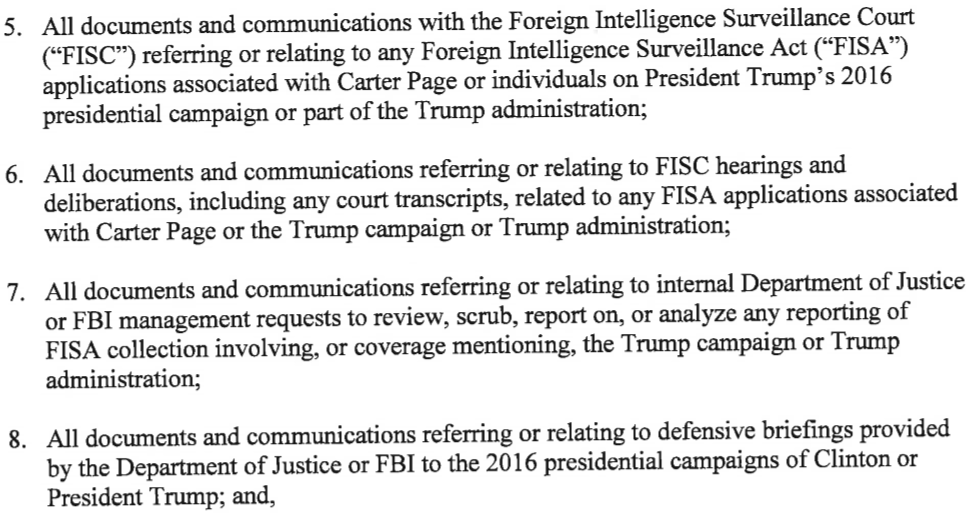 On June 22, 2018, Jill Tyson, Acting Asst Director, Office of Congressional Affairs, sent Goodlatte a reply. The Conservative Treehouse touched on the FBI's response.
Tyson's letter noted that requests 2-6 had been complied with. Requests 1 & 8 were in the process of being filled and were entwined with the Inspector General's recent Report.
Goodlatte may have an entirely differing perspective regarding the FBI's completion of responses to Requests 1-6 & 8 but we will await his response on those matters.
Responses to Questions 7 & 9 were more interesting.


Request 7:
The initial estimated volume of Top Secret emails…is between 50,000 and 65,000 emails.


Request 9:
All documents and communications referring or relating to proposed, recommended, or actual FISA coverage on the Clinton Foundation or persons associated or in communication with the Clinton Foundation.
The FBI's response:
The FBI is responding [to Request No. 9] by separate, classified letter.
Request No. 9 is proving difficult to address and the FBI is seeking to further engage with the Committee to better understand the information sought. Because Committee Staff have indicated that Request Nos. 8 and 9 may be related, the FBI believes that some of the defensive briefing materials…might relate to Request No. 9.
Although the FBI claims it lacks clarity, the initial response to Request No. 9 requires a separate, classified letter.
Several things are apparent:
The FBI remains a fair ways off from fully complying with Goodlatte's subpoena.
FISA coverage of the Clinton Foundation and associated individuals exists.
Request No. 9 is particularly sensitive for the FBI. Response to Request No. 9 requires a classified response.
I have several questions:
Is the investigation of the Clinton Foundation still active.
Is FISA Coverage of the Foundation still active.
Who was covered under the FISA Coverage.
What are the results of that Investigation.
Where are the FISA Applications and what do they contain.
In January 2018, it was reported an investigation into the Clinton Foundation was re-opened.
Could this be it? DOJ investigation opened Jan about CF pay-to-play activities while HRC was Sect of State. A FISA request of a foreign actor could have captured CF emails using the home server…

— Heartland (@Heart_landart) June 24, 2018
Note: Questions 5, 6 & 7 also dealt with FISA issues. Per the FBI, with the exception of Request No, 7, these questions have all been answered:
Request No. 5 was complied with, by letter dated June 19, 2018.
Request No. 6 was complied with, by letter dated March 9, 2018.
The issue with Request No. 7 is stated to be related to sheer volume of emails.
Although one might readily ask oneself how there comes to be between 50,000 and 65,000 Top Secret emails relating to FISA collection/coverage of the Trump Campaign…
My guess: the FBI is still stonewalling in regards to Request No. 7 given its nature…
Nevertheless, why does Request No. 9 require such special handling and deferment relative to Requests 5, 6 & 7.
Yesterday, Katica posted an interesting tweet:
Reminder: The FBI assigned a forensic accountant (FoA) to Hillary's wedding and yoga email investigation and we never heard why.

What is a FoA? ⤵️ @RepMattGaetz @RepPeteKing @KeithRothfus https://t.co/6bwf9YO6Uk

— Katica (@GOPPollAnalyst) June 23, 2018
She also asked a highly interesting Question:
.@KeithRothfus to IG Horowitz: Did those conducting the Midyear Exam search for emails with the https://t.co/ymtrRarR1w root on databases that held data pursuant to FISA? pic.twitter.com/suNAkLhMGp

— Katica (@GOPPollAnalyst) June 23, 2018
I really wish I'd thought to ask it:
The FBI has multiple points of access to NSA Database.
The DOJ Inspector General – w/FBI Oversight – would be allowed access as well.

— Jeff @ themarketswork (@themarketswork) June 24, 2018
Is it possible the reason for special treatment of Request No.9 relates to scope of the Inspector General's Investigations.
Horowitz is already investigating FISA Abuse during the election. Requests 5, 6 & 7 are certain to be covered under his ongoing FISA Investigation – which is likely approaching completion.
Request No. 9 may fall outside the IG's purview – or focus. Which may explain the differing treatment by the FBI.
The information certainly appears to be highly sensitive:
Whatever is in the documents related to FISA surveillance & warrant(s) aimed at Clinton foundation is so classified FBI has to issue a National Security Letter. This is exceedingly rare.

— Harold Finch (@hfinch61) June 24, 2018
Goodlatte had an initial response to the FBI's document production:
Goodlatte on Fox: We now have an office at the DoJ..a reading room were a million documents reside. We can examine all of those documents unredacted, identify the ones we want produced and they are producing them.

— Chad Pergram (@ChadPergram) June 24, 2018
I look forward to seeing Goodlatte's formal response…
One last item for those who missed it in my earlier post.
Goodlatte's subpoena contained a single footnote:
This request does not, at this time, include records of grand jury deliberations or proceedings covered by Rule 6(e) of the Federal Rules of Criminal Procedure. This exclusion, however, does not extend to documents merely presented to the grand jury, derived from documents presented to a grand jury, or any documents revealing when the court made the decision to empanel a grand jury.
This could be read this as precautionary language. But Goodlatte appears fairly specific.
…documents merely presented to the grand jury…
…any documents revealing when the court made the decision to empanel a grand jury.
Enticing. But there's no definitive proof in Goodlatte's footnote alone.
However… the DOJ had a preliminary response to Goodlatte back in March 2018:
DoJ on Hse Judiciary Cmte's subpoenas: We are individually reviewing the remaining documents to ensure that they do not include grand jury information, information about ongoing law enforcement actions involving American citizens, or privileged attorney-client communications.

— Chad Pergram (@ChadPergram) March 22, 2018
We are individually reviewing the remaining documents to ensure that they do not include grand jury information…
Between the footnote and DOJ's response…
newer post  The Supreme Court's Travel Ban Ruling & Justice Thomas on Nationwide Injunctions
older post  Mulvaney's Plans for Government Reform