Admiral Mike Rogers announced his retirement on January 5, 2018, thus bringing an end to a nearly four-year tenure as head of the NSA.
Which is somewhat remarkable given the Obama Administration tried to fire him well over a year ago.
In late 2016, the Washington Post reported what I thought an unusual story – though I lacked the information to grasp the full import at the time:
The heads of the Pentagon and the nation's intelligence community have recommended to President Obama that the director of the National Security Agency, Adm. Michael S. Rogers, be removed.
The recommendation, delivered to the White House last month, was made by Defense Secretary Ashton B. Carter and Director of National Intelligence James R. Clapper Jr.
The article was negative in tone and contained a number of critical quotes from nameless officials.
The story was reported on November 19, 2016, meaning the move to fire Rogers originated sometime in late October 2016.
Thankfully for us, Obama failed in his effort to have the Admiral removed.
The NSA collects just about everything. Correction: Everything.
They effectively hold the keys to the kingdom.
The NSA is responsible for global monitoring, collection, and processing of information and data for foreign intelligence and counterintelligence purposes, specializing in a discipline known as signals intelligence (SIGINT).
SIGINT is intelligence-gathering through the interception of signals – communications between people and also electronic signals not directly used in communication.
As Foreign Policy columnist James Bamford noted:
[Rogers] has the most important job in history in terms of intelligence.
I first discussed Mike Rogers in an April 2, 2017 post. I quoted the following timeline:
On November 17th, 2016, NSA Director Admiral Mike Rogers travels to see President-Elect Donald Trump in Trump Tower, New York. Director Rogers does not inform his boss Director of National Intelligence, James Clapper.
On November 17th, 2016, the Trump Transition Team announces they are moving all transition activity to Trump National Golf Club in Bedminster, New Jersey.
On November 19th The Washington Post reported on a recommendation made by Defense Secretary Ash Carter and Director of National Intelligence James Clapper in October that Mike Rogers be removed from his NSA position.
And noted my conclusion:
Rogers may have notified President-elect Trump of surveillance activities by Obama's intelligence community (Clapper, Brennan & Comey).
In a June 1, 2017 article, I discussed Rogers again:
These subpoenas target three of our Intelligence Agencies; the Federal Bureau of Investigation (FBI), the Central Intelligence Agency (CIA) and the National Security Agency (NSA).
Each of the subpoenas name three specific individuals "as figures of interest" in their demand for documents; former National Security Advisor Susan Rice, former CIA Director John Brennan and former UN Ambassador Samantha Power.
Equally interesting is whom they don't name – specifically either current NSA Director Mike Rogers or former Director of National Intelligence James Clapper. I find one omission [Rogers] affirming, the other [Clapper] puzzling.
I've long thought Clapper and Brennan were at the core of surveillance activities – either directly or indirectly – on Obama's behalf – with Comey doing the investigative dirty work. I may be proven wrong, but that's been my view.
I've also maintained that Mike Rogers may be the one real white hat in this whole affair. The noticeable lack of Rogers' name in the subpoenas helps to affirm my view he is one of the good guys.
And noted the sudden lack of cooperation from the NSA:
The Fox report highlights one other item of relevance. The NSA had been, until recently, mostly cooperative. The CIA and the FBI have not:
Where NSA had previously complied with the House panel's investigators, sources said that cooperation had ground to a complete halt, and that the other agencies – FBI and CIA – had never substantively cooperated with document requests at all.
I suspect there may be some meaningful reasons why the NSA has withdrawn cooperation.
What's now clear is the NSA's withdrawal of cooperation had everything to do with the ongoing Inspector General's Investigation.
As the IG's Investigation progressed, the ability of the NSA to cooperate with Congressional requests became hindered and conflicted.
I ended by noting a story from Circa:
I will be very curious as to where this particular item leads.
Circa recently broke a story on May 23, 2017, highlighting the egregious offenses committed under Obama's NSA:
More than 5 percent, or one out of every 20 searches seeking upstream Internet data on Americans inside the NSA's so-called Section 702 database violated the safeguards Obama and his intelligence chiefs vowed to follow in 2011.
The normally supportive court censured administration officials, saying the failure to disclose the extent of the violations earlier amounted to an "institutional lack of candor" and that the improper searches constituted a "very serious Fourth Amendment issue," according to a recently unsealed court document dated April 26, 2017.
The admitted violations undercut one of the primary defenses that the intelligence community and Obama officials have used in recent weeks to justify their snooping into incidental NSA intercepts about Americans."
I failed to grasp the full significance of the Section 702 violations. I will return to this point.
On June 30, 2017, I discussed Rogers again:
We move on to the report issued by the DNI (James Clapper) on January 6 2017 – Assessing Russian Activities and Intentions in Recent U.S. Elections
The report was created by a joint effort between the CIA (former Director John Brennan), FBI (former Director James Comey) and the NSA (current Director Mike Rogers) – and assembled by the DNI (former Director James Clapper).
The joint report contains one significant caveat:
We also assess Putin and the Russian Government aspired to help President-elect Trump's election chances when possible by discrediting Secretary Clinton and publicly contrasting her unfavorably to him. All three agencies agree with this judgment. CIA and FBI have high confidence in this judgment; NSA has moderate confidence.
Actually, NSA Director Admiral Mike Rogers stated in Senate hearing testimony that his confidence did not reach even this threshold:
I wouldn't call it a discrepancy, I'd call it an honest difference of opinion between three different organizations and in the end I made that call.…It didn't have the same level of sourcing and the same level of multiple sources.
Rogers was clearly unwilling to actively participate in the Russian narrative.
On December 4 2017, I wrote about The Inspector General's Quiet Investigation:
FBI Agent Peter Strzok was removed from the Mueller Investigation because of disparaging text messages he had sent regarding President Trump.
Whose agency maintains records of all cell phone calls? All raw SIGINT?
Admiral Mike Rogers, Director of the National Security Agency (NSA).
We need to return to the Circa article I referenced earlier:
The National Security Agency under former President Barack Obama routinely violated American privacy protections while scouring through overseas intercepts and failed to disclose the extent of the problems.
More than 5 percent, or one out of every 20 searches seeking upstream Internet data on Americans inside the NSA's so-called Section 702 database violated the safeguards Obama and his intelligence chiefs vowed to follow in 2011.
The Obama administration self-disclosed the problems at a closed-door hearing Oct. 26 before the Foreign Intelligence Surveillance Court.
"Since 2011, NSA's minimization procedures have prohibited use of U.S.-person identifiers to query the results of upstream Internet collections under Section 702," the unsealed court ruling declared. "The Oct. 26, 2016 notice informed the court that NSA analysts had been conducting such queries in violation of that prohibition, with much greater frequency than had been previously disclosed to the Court."
Section 702 permits the Attorney General and the Director of National Intelligence to jointly authorize targeting of persons reasonably believed to be located outside the United States, but is limited to targeting non-U.S. persons. Once authorized, such acquisitions may last for periods of up to one year.
Under subsection 702(b) of the FISA Amendments Act, such an acquisition is also subject to several limitations. Specifically, an acquisition:
May not intentionally target any person known at the time of acquisition to be located in the United States;
May not intentionally target a person reasonably believed to be located outside the United States if the purpose of such acquisition is to target a particular, known person reasonably believed to be in the United States;
May not intentionally target a U.S. person reasonably believed to be located outside the United States;
May not intentionally acquire any communication as to which the sender and all intended recipients are known at the time of the acquisition to be located in the United States;
Must be conducted in a manner consistent with the Fourth Amendment to the United States Constitution.
An introduction to Section 702 is provided here and here.
Circa got one crucial element wrong in their reporting – sort of.
It wasn't the Obama Administration that self-disclosed before the FISA Court on October 26, 2016.
It was Admiral Mike Rogers.
On January 7, 2016, the Inspector General's office of the NSA internally released a critical Report on the Special Study of NSA Controls to Comply with the FISA Amendments Act §§704 and 705(b) Targeting and Minimization Procedures. On May 10, 2017, the IG (or ODNI Dan Coates) made the report public. It was this report that led to the Circa article.
We identified another [redacted] queries that were performed outside the targeting authorization periods in E.O. 12333 data, which is prohibited by the E.O. 12333 minimization procedures. We also identified queries performed using USP selectors in FAA §702 upstream data, which is prohibited by the FAA §702 minimization procedures.
Page seven of the report contains a chart showing four types of violations. The most frequent violation – 5.2% of the total – came from Section 702 upstream "About" queries.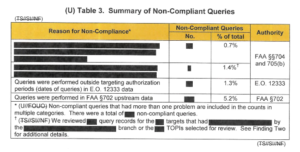 It's unclear if Rogers discovered the 702 violations and reported them in 2015, or if it was the Inspector General who found them. Either way, Rogers became aware of Section 702 violations sometime in 2015. Following the IG's report, Rogers implemented a tightening of internal rules at the NSA.
Rogers also put a stop to Section 702 "Upstream" activities – specifically "About" queries – which allow searches based on any subject.
The NSA press release makes it appear as if "About" queries were stopped in April 2017. This is incorrect. The queries were halted on October 26, 2016. The April 2017 release made the "About" queries suspension permanent.
At this point, I defer to the outstanding detective work from theconservativetreehouse who tied events together with the following timeline:
In mid-2016, Rogers ordered the NSA compliance officer to run a full audit on 702 NSA compliance.
The NSA compliance officer identified several strange 702 "About Queries" that were being conducted. These were violations of the fourth amendment (search and seizure), ie. unlawful surveillance and gathering. Admiral Rogers was briefed by the compliance officer on October 20th, 2016.
Admiral Mike Rogers ordered the "About Query" activity to stop, reported the activity to the DOJ, and then went to the FISA court.
On October 26th, 2016, full FISC assembly, NSA Director Rogers personally informed the court of the 702(17)* violations.
* Section 702(17) Surveillance – includes unauthorized upstream data collection of U.S. individuals through the use of "About" queries.
Rogers had uncovered Section 702 violations involving the Trump Campaign.
On June 7, 2017, Senator Lankford questioned top Intelligence officials about the Foreign Intelligence Surveillance Act (FISA), the Section 702 surveillance program, and the Department of Justice Russia Investigation.
It's here the important dates are found. The following video starts at a point of questioning between Senator Lankford and Mike Rogers:
You may find the transcript here.
LANKFORD: Admiral Rogers, this spring the NSA decided to stop doing "about" queries. That was a long conversation that's happened there. It's now come out into public about that conversation, that that was identified as a problem. The court agreed with that and that has been stopped. What I need to ask you is who first identified that as a problem?
ROGERS: The National Security Agency did. [It was Rogers]
LANKFORD: Okay. So how did you report that? Reported that to who? How did that conversation go once you identified, we're uncomfortable with this type?
ROGERS: So in 2016, I had directed our Office of Compliance, let's do a fundamental baseline review of compliance associated with 702. We completed that effort, and my memory is I was briefed on something like October the 20th. That led me to believe the technical solution that we put in place is not working with the reliability that's necessary here.
I then, from memory, went to the Department of Justice and then on to the FISA Court at the end of October – I think it was something like the 26th of October – and we informed the court: we have a compliance issue here and we're concerned that there's an underlying issue with the technical solution we put in place.
We told the court we were going to need some period of time to work our way through that. The court granted us that time. In return, the court also said: We will allow you to continue 702 under the (16) authorizations, but we will not–will not reauthorize (17) until you show us that you have addressed this.
We then went through an internal process, interacted with the Department of Justice as well as the court, and by March we had come to a solution that the FISA Court was comfortable with. The court then authorized us to execute that solution and also then granted us authority for the (17) 702 effort.
LANKFORD: So you reported initially to the court, this is an issue, or the court initially came to you and said, we have an issue?
ROGERS: I went to the court and said, we have an issue.
LANKFORD: And the court said, we agree, we have a problem as well?
ROGERS: Check.
LANKFORD: And then it got held up, went through the process of review, and then the court has now signed off on the other (16)?
ROGERS: That is correct.
LANKFORD: So how does this harm your collection capabilities, to be able to not do the "about" collections?
ROGERS: So I acknowledged that in doing this we were going to lose some intelligence value. But my concern was I just felt it was important; we needed to be able to show that we are fully compliant with the law. And the technical solution we had put in place I just didn't think was generating the level of reliability. And as a result of that, I said we need to make the change.
I will say this, and the FISA Court's opinion also says the same thing. I also told the court at the time, if we can work that technical solution in a way it generates greater reliability, I would potentially come back to the Department of Justice and the court to recommend that we reinstitute it. And in fact the court acknowledged that in their certification.
LANKFORD: When you say greater reliability, tell me what you mean by that?
ROGERS: Because it was generating errors. Our Office of Compliance highlighted the specific number of cases in 2016. And I thought to myself, clearly it's not working as we think it is. We were doing queries unknowingly to the operator in a handful of situations against U.S. persons. And I just said, hey, that is not in accordance with the intent of the law.
LANKFORD: Yes. Clearly it's not only the intent; it's the actual statute itself that – that we protect U.S. persons.
ROGERS: Yes, sir.
Back to theconservativetreehouse:
Obama's political operatives within the DOJ-NSD were using FISA 702(17) surveillance "about inquiries" that would deliver email and phone communication for U.S. people (Trump campaign). The NSD unit was working in coordination with the FBI Counterintelligence Unit (Peter Strzok etc.).
In an effort to stop the activity NSA Director Mike Rogers initiated a full 702 compliance review.  However, before the review was complete the DOJ-NSD had enough information for their unlawful FISA warrant which worked retroactively to make the prior FBI surveillance (began in July '16 per James Comey) lawful.
The FISA element is now in question. We will return to the October FISA request later.
Rogers stopped the process on October 26th 2016. As a result of his not going along, Rogers became a risk; Clapper demanded he be fired.
The DOJ National Security Division set Admiral Mike Rogers up to take the fall for their unlawful conduct. They preempted Rogers by filing a notification with the FISA Court on September 26 2016 (look at the pdf). DOJ-NSD head John P Carlin was setting up Rogers as the scapegoat while knowing the NSA FISA compliance officer was still reviewing their conduct.
Carlin then announced his resignation [On September 27 2016]. The NSA compliance officer did not brief Admiral Rogers until October 20 2016. Admiral Rogers notified the FISC on October 26 2016.
NSD Head Carlin's efforts at scapegoating Rogers failed.
It's here that we tie back to The Strategic Delay of Section 2.3 of Executive Order 12333 – Obama's NSA Data-sharing Order.
I've written about this twice – first on April 4, 2017. And again on December 17, 2017, as events provided greater clarity.
Section 2.3 had been expected to be finalized by early to mid-2016. Without notice, the order was delayed.
James Clapper, Director of National Intelligence, didn't sign off on Section 2.3 until December 15, 2016. The order was finalized when Attorney General Loretta Lynch signed it on January 3, 2017.
Prior to the formal signing of Section 2.3, greater latitude existed within the White House in regards to collection of information – especially in relation to the Trump Campaign.
Thus, the delay in implementation. The Obama White House specifically delayed signing Section 2.3 until the final days of the Administration – after every possible byte of information had been collected.
Once signed into effect, Section 2.3 granted broad latitude to inter-agency sharing of information.
By the time the new order was signed on January 3, 2017, all information was already in the Obama White House's possession.
One other item to note.
In 2015, Inspector General Michael Horowitz requested oversight of the DOJ's National Security Division (NSD). Deputy Attorney General Sally Yates responded with a 58 page Memorandum, that effectively told the Inspector General to go pound sand.
No NSD oversight would be allowed.
This is the same division where the Section 702 violations appear to have occurred under NSD Head John Carlin.
Fast-forward to Tuesday, March 21 2017, when Devin Nunes met a classified source. I covered this in an April 2, 2017 post:
Mr. Nunes received a call from a person he has described only as a source. The call came as he was riding across town with a staff member in an Uber vehicle. Mr. Nunes quickly got out of the car and went to the White House. There, he has said he reviewed "dozens" of intelligence reports. He said he needed a secure location where people with security clearances could legally view classified information.
Nunes learned of the surveillance back in January 2016 – prior to Trump's infamous tweet claiming surveillance by Obama.
A visibly shaken Nunes gave an impromptu press conference to reporters:
From the press conference:
I will say this. The NSA has been very, very helpful. They are in constant communication with our team.
I have spoken to Admiral Rogers about these concerns and he wants to comply as quickly as he can.
I think the NSA is going to comply. But I am concerned about – we don't know whether or not the FBI is going to comply.
Most of this occurred from what I've seen in November, December and January.
Intelligence gathering efforts by the NSD ended on October 26 2016, when Rogers informed the FISA Court. Dissemination of the information began in November 2016.
I have seen intelligence reports that clearly show that the President-Elect and his team were at least monitored and disseminated out in intelligence recorded channels.
I closed the post with the following thoughts:
James Clapper as Obama's Director of National Intelligence has to rank as a possible suspect for the act of unmasking. Ex-CIA Director Brennan could be another possibility. Ex-Deputy Attorney General Sally Yates and Ex-Attorney General Loretta Lynch may figure into all this as well.
Michael Rogers of the NSA makes a good candidate for Nunes' source.
On Friday March 31, 2017 a Fox News report by Adam Housley cited numerous unnamed intelligence sources with direct knowledge of how the unmasking occurred:
From Housley's reporting:
We've learned that the surveillance that led to the unmasking started way before President Trump was even the GOP nominee. The person who did the unmasking, I'm told, is very well known, very high up, very senior in the intelligence world and is not in the FBI.
This led to other surveillance which led to multiple names being unmasked. Again these are private citizens in the United States. This had nothing to do with Russia, I'm told, or foreign intelligence of any kind.
It took a number of weeks to try to figure out a way for him [Nunes] to see this intelligence, because the agencies were stonewalling, we're told, to allow him and others to see it. This is all coming from folks that are in these agencies and frustrated with the politics that is taking place in these agencies.
We're told that the main issue here is not only the unmasking of the names, but the spreading of names for political purposes that have nothing to do with national security and everything to do with hurting and embarrassing Trump and his team.
Fox also learned from an individual with direct knowledge that after Nunes had been approached by his source, the agencies basically would not allow him in at all.
In a local video interview on Friday March 31, 2017, Nunes confirmed much of this, noting that the NYT article was "mostly wrong", that the situation is something Nunes "has known about for a very long time" and that the classified information "had nothing to do with Russia".
The classified information had nothing to do with Russia. This point may prove important.
It started off simply enough:
Has anyone other than The Daily Caller confirmed Devin Nunes has the FISA application?

— TheLastRefuge (@TheLastRefuge2) January 9, 2018
Sundance at theconservativetreehouse was the first person to openly ask this simple question.
1. Unfortunately the simple question of whether or not Chairman Devin Nunes has SEEN, or has POSSESSION of, a 2016 FISA application from the DOJ/FBI is not AT THIS MOMENT answered in any media.

— TheLastRefuge (@TheLastRefuge2) January 9, 2018
This is something that has troubled me. I maintain an extensive timeline (40 plus pages) with citations. I have been able to find documented dates for most significant events.
I have never been able to pin down the timing of the second FISA application.
September or October 2016 is the closest I can approximate.
More importantly, I have never been able to locate a direct source verifying the application or issuance of a FISA warrant. All reports quote an unnamed source – or another source that does same.
I also thought the "reported" timing of the second FISA warrant odd.
If Flynn discovered violations of Section 702 wouldn't the FISA Court be inclined to re-examine or delay any recently issued or pending FISA applications.
I've been wondering about this.
If Rogers went to FISA Court on October 26 '16 w/Section 702 violations why wasn't FISA Warrant – if already issued – reexamined or rescinded.

— Jeff Carlson, CFA (@themarketswork) January 10, 2018
Get that. I still wondered if it would have prompted overall review. Especially of something so important. I also was guessing Rogers had broader info.

— Jeff Carlson, CFA (@themarketswork) January 10, 2018
Which led to some speculation:
So, none of the collection was related to Russia. Therefore no justification. When they went back to apply for FISA – if they did – they were denied. And they proceeded anyway?

— Jeff Carlson, CFA (@themarketswork) January 10, 2018
This morning Sundance refined his thoughts and provided this video of Clapper emphatically denying any FISA Warrant:
Clapper again denied any FISA application or warrant during an interview in September 2017.
9. Now, while I am of no disposition to believe former DNI James Clapper, the consequence behind his words, if false, and *the length of time between both statements*, lends to his full understanding of consequence if he were lying. ie. It's most likely he's telling the truth. pic.twitter.com/vKmDHsiJqH

— TheLastRefuge (@TheLastRefuge2) January 10, 2018
By this point in time, Clapper had to understand the import of what he's saying. And the associated penalties for lying. He chose his words very carefully.
12. Former ODNI Clapper says no such Title III authorizations were taken. No wiretaps were made of candidate Trump, Trump tower, or the Trump campaign. Ergo, no FISA Warrant was needed.

— TheLastRefuge (@TheLastRefuge2) January 10, 2018
I think you can see where this is headed.
15. Within this entire enterprise of "spying on the Trump Campaign" there is no need for "wiretapping" per se' because EVERYTHING is being already being collected by the NSA.

— TheLastRefuge (@TheLastRefuge2) January 10, 2018
They had the information. They just had to be willing to access it.
17. And that's where NSA Director Mike Rogers discovered that FISA-702(16)(17) violations were happening upon the Trump campaign officials. pic.twitter.com/UbTS23JmIV

— TheLastRefuge (@TheLastRefuge2) January 10, 2018
Which is exactly what Mike Rogers discovered the NSD to be engaging in.
19. Again, 702 is basically spying on Americans; the actual "spying" part is 702. Item 17 is "About Queries", which allows user queries or searches of content (messaging, email and phone conversations) based on any subject matter put into the search field of the NSA database.

— TheLastRefuge (@TheLastRefuge2) January 10, 2018
They didn't wiretap anyone. They simply accessed the data already gathered. Illegally.
29. Again, all research indicates the DOJ National Security Division (John P Carlin) and FBI Counterintelligence Division (W.H. "Bill" Priestap) were the 2 DOJ orgs operating in concert with Fusion-GPS & Christopher Steele while simultaneously carrying out surveillance activity.

— TheLastRefuge (@TheLastRefuge2) January 10, 2018
31. Neither the DOJ-NSD nor the FBI CoIntel needed wiretaps or FISA warrants. They only needed to, unlawfully, search the NSA data hub.

— TheLastRefuge (@TheLastRefuge2) January 10, 2018
And this is what Mike Rogers told the Trump Campaign when he visited on November 17 2016.
38. You see, the Obama administration didn't need a DOJ or FBI driven FISA warrant. The ENTIRE SYSTEM of U.S. NSA surveillance and data collection was weaponized against a political campaign. pic.twitter.com/cpAlGzuABD

— TheLastRefuge (@TheLastRefuge2) January 10, 2018
It remains possible that an October 2016 FISA application and Warrant exist.
But it appears unlikely.
If one does surface, it raises troubling questions of its own.
The implication being, the Trump Dossier was not created to allow for spying on the Trump Campaign. The Dossier was created to gain a FISA Warrant to cover surveillance activity that had already taken place.
That may well have been the origin of the Trump Dossier creation – to create a rational for previous illegal surveillance activity. But heroic actions taken by Admiral Rogers stopped the plan from being implemented. The FISA Court had been warned.
If Sundance is correct and no FISA application was ever made, the implications are more disturbing.
Our entire Intelligence apparatus was weaponized to alter a Presidential Election. The chain of activity may rise all the way to the top.
How does a nation prepare itself to deal with that level of criminality.
I'll leave you with one last question:

What happens if it is ever proven that a sitting President spied on a political candidate and his team without ever obtaining a warrant? pic.twitter.com/0EiWJgRJHJ

— Praying Medic (@prayingmedic) January 10, 2018
Prepare yourself. The narrative will now rapidly shift to finding/establishing legal means whereby the Trump Dossier justified gaining FISA Search Query Authority.
This story is now out. The question becomes, what is done with it.
newer post  The Uncovering – Section 702 "About" Queries, Independent Contractors & a New Narrative
older post  Some Updates & the Participants