There's been a lot of speculation about the role of George Papadopoulos. Especially in light of new information covered yesterday.
Initially, I was convinced that Papadopoulos was a nothing more than a pawn in a much larger game. But as new information and a continuation of ever-increasing coincidences came forth, I began to reassess that position.
I want to be clear. I don't have enough information to be certain of anything. But I'm far from convinced that Papadopoulos was simply an innocent victim of events.
Let's look at what we actually know.
We know that Papadopoulos met multiple times with Mifsud in the first half of 2016:
March 14 2016 – Papadopoulos first meets Mifsud in Italy – approximately one week after finding out he will be joining the Trump team.
March 24 2016 – Papadopoulos, Mifsud, Olga Polonskaya and unknown fourth party meet in a London cafe.
April 18 2016 – Mifsud introduces Papadopoulos to Ivan Timofeev, an official at a state-sponsored think tank called Russian International Affairs Council.
April 26 2016  – Mifsud tells Papadopoulos he's met with high-level Russian government officials who have "dirt" on Clinton. Papadopoulos will tell the FBI he learned of the emails prior to joining the Trump Campaign.
May 13 2016 – Mifsud emails Papadopoulos an update of "recent conversations".
Note: Papadopoulos and Mifsud reportedly both worked at the London Centre of International Law Practice.
Joseph Mifsud appears to have joined LCILP around November 2015. Papadopoulos appears to have joined LCILP sometime in late February 2016 after leaving Ben Carson's campaign.
Some reports indicate Papadopoulos joined in November 2015 – the same time as Mifsud (h/t ChainsawSue). They reportedly never crossed paths or met until March 14, 2016.
Somewhere between April 14-May 10 2016 Papadopoulos leaves his position at LCILP. Timing is unclear.
It appears that Papadopoulos' position was primarily in name only and details on LCILP are suspiciously vague (more here).
We know that Papadopoulos lied about the timing and nature of those meetings. From the July 28, 2017 Affidavit:

We know his lies were material. A description of actual contacts taken from the Affidavit tells a different story than Papadopoulos' portrayal. On March 24 2016:




There are more example like this contained in the Affidavit. Papadopoulos' contacts with Mifsud were more serious than he let on in his initial FBI Interview.
We know that Papadopoulos continuously pushed for meetings between Trump Campaign officials and Russian contacts:
The persistence of Papadopoulos has always bothered me. At some point your efforts become counterproductive. How many times do you have to be told "no".
The ongoing attempts by Papadopoulos feel eerily similar to those made by Mifsud and Halper. Use intentionally manufactured meetings and contacts to create perceived associations with Russia.
Papadopoulos was unsuccessful in establishing any meetings throughout his employ.
We know that Papadopoulos suddenly deleted his Facebook account which showed contacts with Russian officials:
The FBI interviewed defendant Papadopoulos again on February 16, 2017. His counsel was present for the interview. During the interview, defendant Papadopoulos reiterated his purported willingness to cooperate with the FBI's investigation.
The next day, on or about February 17, 2017, defendant Papadopoulos deactivated his Facebook account, which he had maintained since approximately August 2005 and which contained information about communications he had with the Professor and the Russian MFA Connection. Shortly after he deactivated his account, Papadopoulos created a new Facebook account that did not contain the communications with the Professor and the Russian MFA Connection.
We know that Papadopoulos suddenly got rid of his cell phone:
On or about February 23, 20 17, defendant Papadopoulos ceased using his cell phone number and began using a new number.
We know that Papadopoulos began cooperating with the FBI no later than the day following his July 27, 2017 arrest. From the July 28, 2017 Motion to Seal: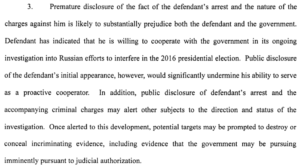 The October 5, 2017 transcript reiterated Papadopoulos' cooperation with the Special Counsel:
The Government in the agreement agrees to bring to the Court's attention at sentencing the Defendant's efforts to cooperate with the Government on the condition that the Defendant continue to meet with and provide information to the Government on request.
And later, in a very interesting discussion regarding Papadopoulos' ability to gain information in the future through FOIA:
The other important factor in this case is that in the process of his ongoing efforts to cooperate, the Government has shared substantial information with the Defendant that has provided a road map of sorts, if you will, to information that might then be sought on FOIA.
And it will chill the Government's ability to continue to have the Defendant cooperate if the information that's being provided by the Defendant and the continued efforts to jog his memory are then used to create a road map to the ongoing investigation and the FOIA requests that would ensue from that.
A quick clarification as to what information was being shared:
The information I was referring to earlier — that is, that the Government has shared with Mr. Papadopoulos, is all information that Mr. Papadopoulos either created or would have access to initially and was found as a result of searches. The Government was not in any way giving him information that he might not at one point have seen or had access to. We're showing him things that he was unaware of in an attempt to refresh his recollection.
So we know without doubt, Papadopoulos was cooperating with Mueller from at least July 28, 2017.
We know that Papadopoulos' agreement of government cooperation was reached swiftly – and with no attorney present:
Papadopoulos was arrested on July 27, 2017 at Dulles airport at 7pm in the evening. He flew in from Munich, Germany.
Papadopoulos entered the city detention center on July 28, 2017 at 1:45am. He was checked out to "federal authority" at 8:27am on July 28, 2017. No warrant was used. Even more intriguing, Papadopoulos had no attorney present.
The same day, on July 28 2017, Papadopoulos appears in court. He does not have an attorney and his case is sealed. Papadopoulos agrees to cooperate with Mueller.
I find it surprising that a full agreement of cooperation with the government could have been worked out in such a short time frame. Papadopoulos was in jail from 1:45am to 8:27am on July 28, 2017. Papadopoulos was in front of a judge, government cooperation agreement in hand immediately. Without an attorney present.
For a good walk-through of the court documents see this overview from Tracybeanz:
THIS is one of the most important videos I have done in a long time. It is 10 minutes long. PLEASE watch and share this one. https://t.co/F14kfMCa32

— Tracybeanz (@tracybeanz) June 2, 2018
We know the timing of Papadopoulos' arrest seems – again – highly coincidental. From yesterday's post:
Horowitz's discoveries led him to initiate a new angle to his investigation. It also led him to notify Mueller of his findings on July 27, 2017:
On July 27, 2017, upon our identification of many of the political text messages, the Inspector General met with the Deputy Attorney General and the Special Counsel to inform them of the texts that we had discovered.
George Papadopoulos was arrested by the FBI later on the same day Horowitz informed Mueller of the Strzok texts. Papadopoulos flew in from Germany for the event.
We know that Deputy Attorney General Rod Rosenstein issued his revised "Scope of Investigation & Definition of Authority" Memo to Mueller on August 2, 2017 – just five days after Papadopoulos' sealed court hearing.
That memo is heavily redacted. I would dearly love to know what lies behind those redactions.
We know the House Memo noted the use of Papadopoulos to open the FBI's July 31, 2016 Counterintelligence Investigation:
The Papadopoulos information triggered the opening of an FBI counterintelligence investigation in late July 2016 by FBI agent Peter Strzok.
This point is important in relation to Papadopoulos' arrest – one full year later. The FBI already knew everything in July 2016. As ImperatorRex noted: It's not like the FBI first learned of Papadopoulos' connection to Mifsud when interviewing him in January 2017.
Which raises another question. Why is there no mention of Papadopoulos in the Steele Dossier. Particularly when this document was so vital to obtaining the October 21, 2016 FISA Warrant. Paul Manafort, Carter Page, Michael Cohen, Michael Flynn and Corey Lewandowski are all listed in the Steele Dossier. But no George Papadopoulos.
Quick take: I think the FBI may have tried to use Papadopoulos in those two June 2016 FISA attempts – and failed.  For my thoughts on that see here.
We also know that no official intelligence was used in opening the FBI's Investigation:
Nunes: There was no Five Eyes Intelligence Product – as it's been reported. There was no product.
We are investigating the State Department. We think there are some major irregularities at the State Department and we're trying to figure out how it is that this information – about Mr. Papadopoulos of all people – who was supposedly meeting with some folks in London, how that made it into the FBI's hands.
The FBI's inability to obtain a FISA Warrant in June and July 2016 would explain why the FBI opened its July 2016 Counterintelligence Investigation with no official evidence.
We know that Mifsud was interviewed by the FBI and never charged:
As I've said before, I don't have enough information to make a determination on Mifsud at this point, but I strongly suspect ties with British Intelligence will prove accurate.
Julian Assange put out a Twitter Thread noting the connection between Mifsud and UK Intelligence.
1/ Boris Johnson met with Misfud on 19 Oct 2017 (Politico) https://t.co/SYxQZMMWMn

But who's the guy on the right? pic.twitter.com/VzIc8vVeTz

— #FreeAssange! (tweets by campaign)⌛ (@JulianAssange) March 22, 2018
Disobedient Media has done a series of articles on Mifsud's strange background – or lack thereof (here, here, and here).
I believe ties to British and/or Western Intelligence will ultimately come forth.
We know we don't know much about Papadopoulos' now-wife, Simona Mangiante.
The triangle between Mangiante, Papadopoulos and Mifsud is, at best, strange. From a January 18, 2018 Guardian article:
Long before Mifsud and Papadopoulos ever met, it was Mangiante who was introduced to the mystery professor while she was working in Brussels, in the European parliament, as an attorney specialising in child abduction cases.
She was introduced to Mifsud in about 2012 by Gianni Pittella, a well-known Italian MEP who in 2014 became president of the Socialists and Progressive Democrats group.
Pittella suggested she go to work for Mifsud in London, a city she loved. The professor offered her a job in 2016 at the important-sounding London Centre of International Law Practice. She was recruited, she now thinks, because of her extensive Brussels "contacts book".
At around the same time that she started the job, in September 2016, Mangiante received a message on the LinkedIn social network from Papadopoulos. Papadopoulos had worked at the law centre briefly before joining Trump's campaign.
Read the article. The full sequence of coincidental events is…unusual.
In an article from last night, Sundance referred to Simona Mangiante as the "wife-not-wife/spy-not-spy of Papadopoulos". I laughed.
Mangiante was on Tucker Carlson last night. Towards the end she asked publicly for a Presidential Pardon. She also mentioned her employment by Mifsud in passing. Watch Tucker's reaction at the 1:47 mark. Unfortunately he fails to pursue that particular avenue:
ImperatorRex did a short thread on Mangiante. You can find it here:
4. And I can't help but wonder at the coincidence of Mangiate's sudden appearance, on the SAME DAY that we learn of Strzok bragging about having OCUNUS LURES approved, back in Dec 2015:https://t.co/ix8gb6JHw5

— REX (@_ImperatorRex_) June 5, 2018
For a deeper dive into the strange alignment of Mifsud, Papadopoulos & Mangiante see this thread by Rising serpent:
1. Fiction is truly anemic compared to the rich tapestry of the bizarre that we are privy to in daily life: consider this:
Simona Mangiante first connected with Papadopoulos on LinkedIn after Papadopoulos noticed they shared a mutual connection.

— Rising serpent (@rising_serpent) June 6, 2018
Everything about this smells.
The thing is, I can still make a case either way on Papadopoulos. The disinformation campaign has been effective.
I've got my leanings and suspicions but I'm still not sure. Therefore, I'll close this post as I did yesterday:
There are any number of conclusions that can be drawn. But, for me, it's too early to do so. At this juncture I'm choosing to let the strangeness of facts stand on display.
For a full Papadopoulos timeline see, The Strange Flight of George Papadopoulos.
newer post  The Pending IG Report & Strzok Texts
older post  The Strange Flight of George Papadopoulos